photo: Aspiring Mca Mr Fred Chweya's facebook profile picture.
The Bogetenga Ward aspiring MCA,Fred Chweya has released his moving and touchable Manifesto that has nearly caught almost everyone talking,the aspiring MCA hails from Bogetenga Ward,South Mugirango Constituency, kisii county.
His well articulate Manifesto touches every section including bursaries to the needy students unlike other leaders who mostly award it to the family members and friends. He also noted that in his first term will install Wi-Fi, toilet and water one of the public lands for people to relax and meditate, something youths are happy of it since nearly 80 percent of them are internet users.
He seemingly winning the support of youths across the Ward and is likely to challenge the political bigwigs.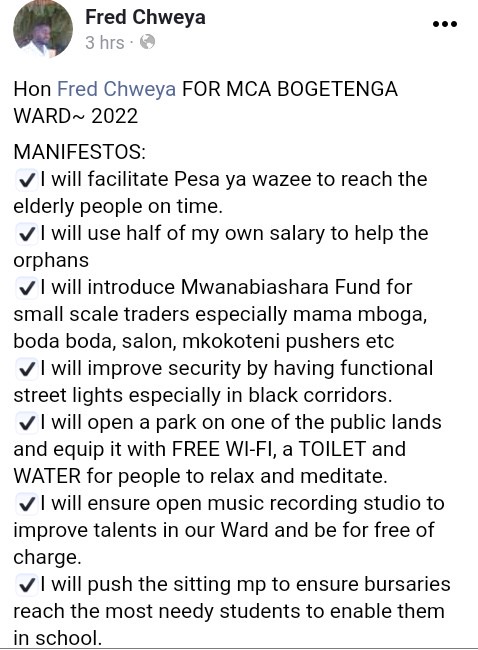 Photo:the drafted Manifesto by aspiring MCA Fred Chweya, Facebook courtesy.
His interest on joining politics while in high school started when he stood for class prefect and won and later managed to woo fellow students and he was voted as student leader with 90 percent of students.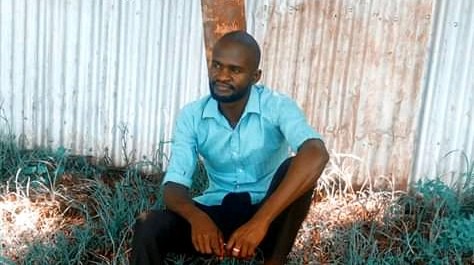 On his social media is seen to be Odinga's defender and critic to Dp Ruto's camp, however he didn't prevail his party on his political journey which according to him will be communicated later.He is likely to be the youngest aspiring MCA across kisii county.
Content created and supplied by: Benchmaker (via Opera News )