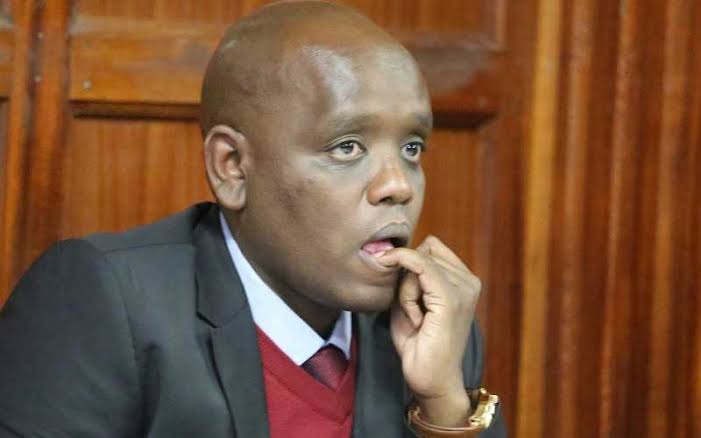 A Kenyan renown blogger and hustler movement spokesperson got the wrath of Kenyans on twitter, after making sentiments concerning former Vice President Kalonzo Musyoka.
Through his Twitter account, he stated, "Some like @skmusyoka are shamelessly shouting they took the MWANANCHI jab. In other words, MEN who could afford to PAY for a JAB, decided to jump the QUEUE & instead of letting FRONTLINE workers&vulnerable Grandma's take the FREE 1 MILLION doses, they TOOK IT! #WeWantSputnikV."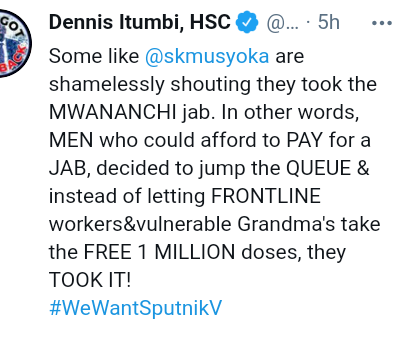 This comes few hours after the government banned the importation of private Covid-19 Vaccine in the country. The vaccine in question at the moment is SputnikV which some leaders have been vaccinated with including deputy President Dr William Ruto.
The blogger has now accused former vice president for taking the jab which is given free by the government instead of leaving it for common citizens, yet he can afford the private vaccine.
Some Kenyans were angry at the blogger as they state;
Mkenya Daima; Kuwa mpole nani! Wewe tangu uzaliwe umewai sikia Kalonzo amenunua kitu? These are guys who are used to freebies and infacf they think it's their right to be paid for by the poor mwananchi. Talk of the cerelac niwachie boys.
KYULE; Kalonzo is past 58y/o, give us a break.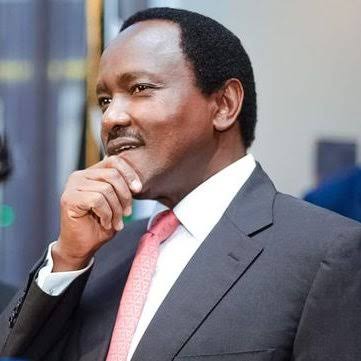 John Kingoo; Ruto did not have Faith in the mwananchi jab he too the one for the masonko,He keeps on failing to lead by example just like he failed to wear a mask during his super spreader events.
kimalel; Vulnerable 8s from age 58 upwards..... Even kalonzo is elderly.... People wanted even kagwe to tale the jab, now that these leaders have taken, we are happy!! It is leadership.
Alexander Ekalei; hebu ongea na aror-kimwarer, mweleze vile alipea hustlers wheel barrow atupatie pia sputnik V
TheGoodSamaritan; Its a Jubilee Govt directive!
Kevin Ety Etelija; The other time leaders weren't taking the jab ilikuwa shida,now they're taking ni shida kubwa waah..hustlers wa https://Kenya.Lol
Gareth Makory; Point taken, but Steve is a Kenyan too and meets the requirements put in place by MoH (Being over 58 years old). Let's just put this matter to rest Dennis.
Content created and supplied by: Salukesh (via Opera News )