Hallo and welcome to today's newspapers Review.
Daily Nation.
The Nation headline casts it's spotlight on the 2022 succesion and why it's a do or die for the aspirants who include DP William Ruto, ODM leader Raila Odinga and one kenya Alliance lead by Mudavadi and Kalonzo.
How each is going to handle individual challenges faced will determine success in a dispensation where alliance Formation is difficult as everyone wants to ascend the house on the hill.
In another story, teachers and nurses are reluctant in taking the Vaccines as more men than women embrace the idea. The vaccine is available for teachers, nurses and people above 58 years.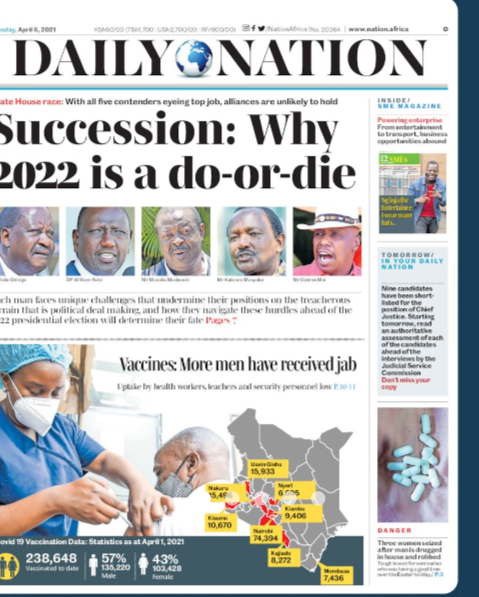 Standard
The paper features the likely impact of the COVID-19 situation in the country on the academic calendar.
Schools closed in mid march ahead of the start of national Examinations that are Underway.
The re-opening date which was set for early may is now a doubt with the president having suspended learning following an upsurge of COVID-19 cases. Will it become another lost year?
In another story, a Kenyan incarcerated in china since 2008 has been communicating to his mother through letters. Serving life imprisonment for drug trafficking, he however has hopes that one day he will come back home alive.
In yet another story, mps mutula Kalonzo junior, Ayub Savula and Dan Maanzo now want former NASA Principals to start working together ahead of 2022 as the only way they can be sure of defeating Ruto.
However, ODM Chairman John Mbadi says that any Talks about alliances will only be possible after the BBI refrendum.
This is after Amani National congress leader Musalia Mudavadi signaled that the one Kenya alliance is willing to work with Raila.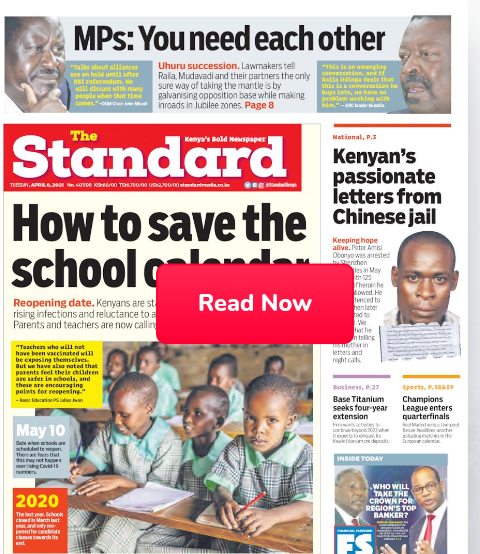 Taifa leo
The Swahili publication focuses on the gorvenment's decisions that are only helping to heap more misery on the poor. Analysts opine that reintroduction of IMF conditional loans means more sufering for kenyans as taxes are set to be increased further.
From lockdowns to poor health care Services , the lives of many poor Kenyans are at risk. Calls to have the president open up the locked counties haven't yielded any fruits.
In other stories, Musician Jay-Z's t-shirt annoys Muslim at the coast, a Catholic seminarian sufers in the hands of women who allegedly druged him and ODM party heads to court to challenge matungu By-election outcome.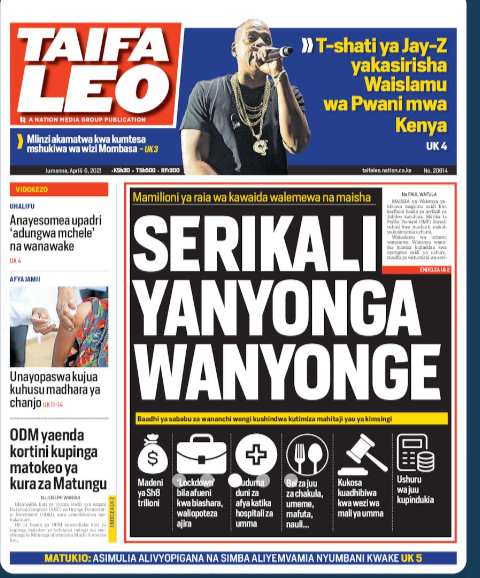 Busines daily
The daily majors on Airtel's move to directly compet with the market leader safaricom by connecting 5G for fastest internet connectivity.
So far safaricom which rolled out it's 5G network a few days ago has a market share of 67% followed by Airtel at 26%. Telcom and equitel share the remaining.
In another story, top Banks set aside ksh 109 Billion for loan losses. Banks are projecting a huge deafault in payment this year as busineses get a beating following the the effects of lockdowns and other COVID-19 containment measures.
And finally the mystry of ksh 139 Billion Loan deal by Treasury for construction of mobile clinics still persists as treasury now claims it's a false allegation.
An American company associated with the loan has submitted to the US's stock exchange that Kennya's treasury terms the signatures appended for the loan as fake.
For these and more stories, grab yourself ba copy of your choice.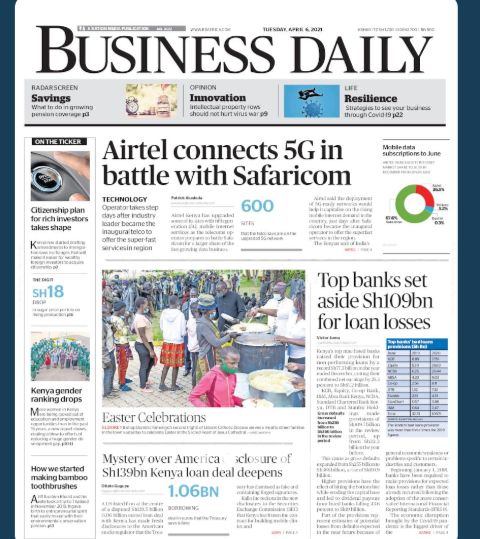 Where do you think an alliance between all former NASA Principals will leave DP William Ruto? Feel free to share your thoughts and comments on this on our comments platform.
Content created and supplied by: @yokeabu (via Opera News )