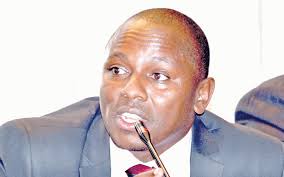 Just a day after the Kericho Senator Aaron Cheruiyot accused the Wiper Leader Kalonzo Musyoka of alleged nepotism, the Kikuyu Member of Parliament has now emerged with fresh attacks against Kalonzo accusing him of always criticizing the Deputy President William Ruto unnecessarily.
Kimani Ichungwa who expressed his concern through his official twitter handle did not mince his words against Kalonzo Musyoka.
"I am just wondering the rate at which of late Kalonzo Musyoka can't speak in public without mentioning William Ruto. Is he envious, in love with the name or just lost," twitted Kimani Ichungwa.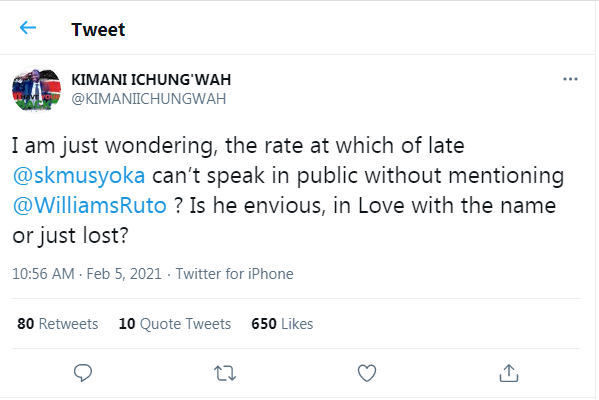 This fiery remark by the lawmaker comes just a day after Kalonzo Musyoka invoked the name of the Deputy President William Ruto in his speech at Kabarak during the first anniversary of the death of the Kenyan second President Daniel Arap Moi.
Kalonzo claimed that if he could have been DP Ruto then he could have owed a lot of his political success to the late President Moi.
What he meant by such remarks may be a story for another day however it is now clear that he may have triggered some fury among DP Ruto's allies like Kimani Ichungwa and the Kericho Senator Aaron Cheruiyot.
During his speech at Kabarak, Kalonzo spoke about the need to empower youths through mentorship. He warned leaders against inciting the youths as that can plunge the country into crisis.
"All leaders have the collective responsibility to positively mentor the youth instead of misusing them through incitement," said Kalonzo.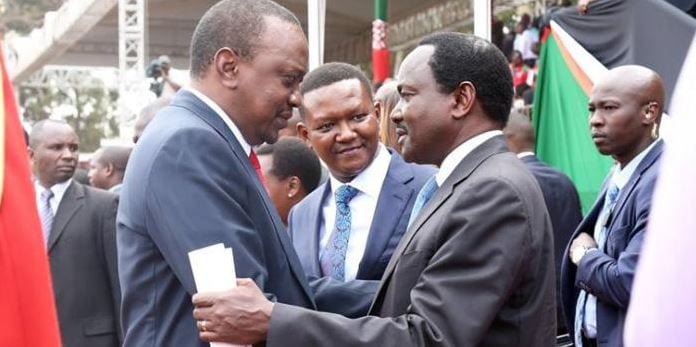 As the senior political reporter Francis Gachuri would put it; we live in a season of political bad manners and therefore many of such tweets are likely to crop up even in the future. The big question is; where does this leave the ordinary citizen?    
Content created and supplied by: @DAVEWERE (via Opera News )