Political re-alignment in the Kenyan political arena is taking shape with various politicians forming blocks with their counterparts. There has been observed a number of twists with some leaders defecting from their parties and joining other forces.
After Raila went to the handshake as a one man army, some of his brigades in the NASA coalition were left wondering which route to take.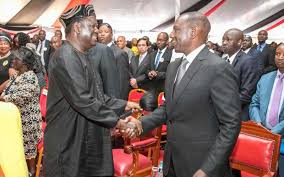 This has basically left the Brigades coming up with the One Kenya Alliance incorporating Gideon Moi as a way to rectify what seems to be a deep mistake in running for the top seat.
On the other end, Deputy President William Ruto has seemed to be the darling of each politician. His flexed muscles has made many alliances yearning for his backup. The most possible alliance will be that of him joining kenyan political mastermind Raila Odinga.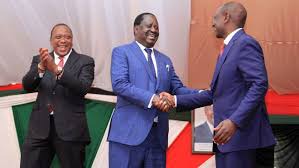 Ruto has been whirling around the country pulling masses behind him. This has been sending tensions in other camps with the end result being a gang up against him. It's no doubt that Ruto has sent fear to other leaders proving to be the front runner in this race.
Raila working together with Ruto once again may make things unbearable to their opponents. A combined work-force between this duo will be a great threat to other alliances.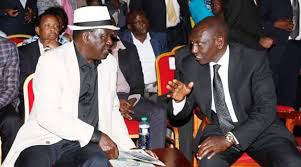 This is because the two know each other well following great works done in Pentagon. Raila was the chief Commander in Pentagon shaking the ground together with Ruto.
If the two will shelve their differences and join hands together, it's no doubt that the impact they will make will leave a mark to be remembered. One greatest advantage this duo have over their counterparts in the One Kenya Alliance is that they are crowd pullers. Things may work out in their favour.
Content created and supplied by: KenyaTopNews.Com (via Opera News )