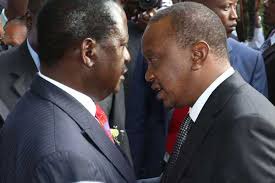 Raila Odinga has yearned to succeed president Kenyatta in 2022 through the handshake. President Kenyatta has shown all indications that he might be willing to support Raila Odinga in 2022.
Raila Odinga however might fail to secure the support of central Kenya even with the support of Uhuru Kenyatta. Most people in central Kenya have had Raila Phobia for decades something that cannot change easily.
It's president Kenyatta who himself referred to Raila Odinga as a mad man and coming to support his 2022 presidential ambitions might just prove difficult. Most people have Raila Phobia owing to past utterances by leaders Uhuru Kenyatta included
It might be extremely difficult to sell the candidacy of Raila Odinga in central Kenya as most people see him as a person with no interest of the region at heart. People are concerned with their businesses and they mostly believe Raila is not the best option owing he has disrupted businesses in Nairobi town through demonstrations before.
President Kenyatta has also not performed to the expections of the central Kenya region. Most will therefore view an election of Raila Odinga as just a continuation of president Kenyatta government that has left them jobless with minimal development.
Raila Phobia is rife and nigh in central region as a lot of fallacies have been peddled around and about Raila Odinga. Most believe if Raila is president he will shield people from his community from paying rent owing vast lands and resources in Nairobi are owned by people from central Kenya.
This reasons will make it difficult for central Kenya to elect Raila Odinga in 2022. Already the deputy president has been at the forefront in putting central Kenya block under a lock and key and it's believed he has succeeded heavily. It will be difficult to change this support within two years to the advantage of Raila Odinga.
Content created and supplied by: onegirlshow (via Opera News )