Hallo and welcome to today's newspaper Review.
All the three main papers today ie the standard, Daily nation and Taifa leo headlines have dwelt much on the deputy president William Ruto's response to his boss the president about resignation yesterday. We take a look at both of them here.
1 the Standard: Man In the eye of the storm
The standard dwels much on what the state and the president are doing in order to tame the DP who seems to have completely fallen out with Uhuru.
His reactions to the onslaught has a huge impact on course of Kenya's politics going forward.
The state seems to be applying these three strategies to clip the wings of Ruto.
1 the president is taking his battle againist DP to the people especially in Public gatherings. This was witnessed last week where he publicly asked him to resign from gorvenment after tearing apart his hurstler narative.
2 raiding on the president's disapproval of Him, gorvenment officials are scaling up their offenses on the Deputy president as they tackle him at state level.
3 to deal him Political blows, Ruto has been technically kicked out of Jubilee and now the Officials are moving in to distabilise his new political formation.
In another story on the front page, a top cleric's account was swept clean by cons who had accessed his personal details.
In yet another story, today being Valentine's day there are takes of love brewed during corona times. Is love like a stream that defines it's own course?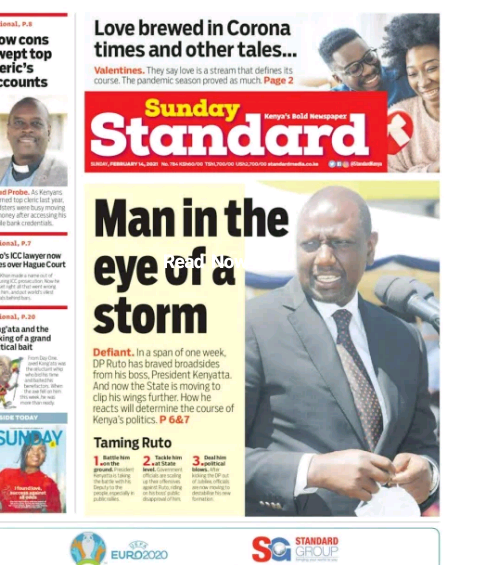 2 Daily nation: end of civility
Having faced a lot of attacks from various sides with even his boss not sparring him, the deputy president decides to stay put and vows not to resign.
However, a million dollar question is for how long can the unwanted marriage last?
In another story on the front page, the former Ruto lawyer karim khan is now the presecutor at the ICC having taken over from Fatou Bensouda.
Having partied had with uhuru and Ruto after their victory at the Hague, will he turn hunter given that the cases were never closed?
In yet another story, the former unctad boss mukhisa kituyi will today land into the country with a grand plan to convince Kenyans to support his presidential bid. He is coming by to tell Kenyans why he wants to be president.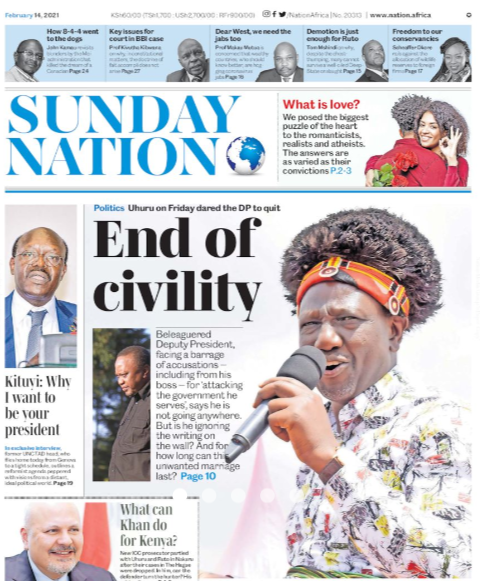 3 Taifa leo: Ruto akwamilia ndoa ya machozi
The DP has stated that he is not going anywhere because his position is guaranteed in the Constitution. This is despite the fact that things are tough in uhuruto marriage with him suffering more.
Another on BBI, the Kaya elders have warned MCA's at the coast Against passing the BBI without involving the people first.
Finally in Taifa leo, kituyi's decision to vie for presidency may be a big blow to Musalia Mudavadi who has also declared his intention to go for the top sit. For these and more stories, get yourself a copy of your choice.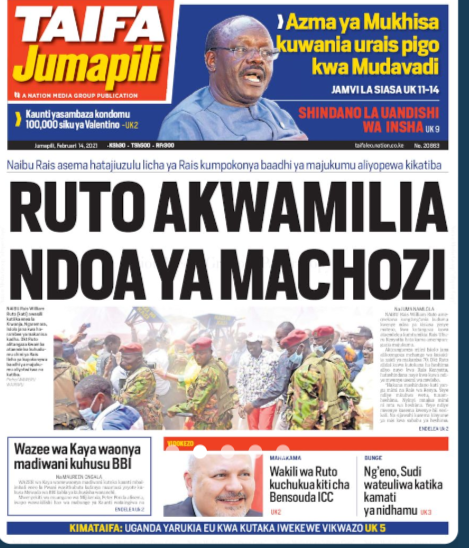 How long do you thing the marriage of uhuruto will last? Feel free to share your thoughts and comments on this on our comments platform.
Content created and supplied by: @yokeabu (via Opera News )