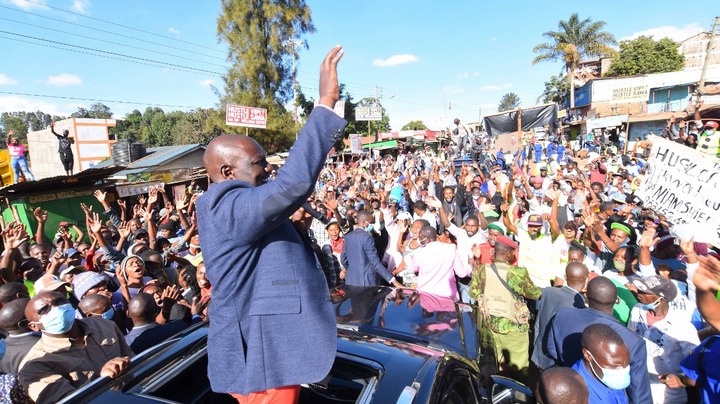 Deputy President William Ruto has challenged ODM leader Raila Odinga to speak directly to President Uhuru Kenyatta on Jubilee government failures instead of criticising his administration by the roadside.
Speaking in Dagoretti yesterday, the DP told Raila to stop using him as a scapegoat for Jubilee failures. "I heard Raila say that there is no work that the President and I have done. If he has a problem with the performance of Jubilee, let him look for Uhuru Kenyatta via phone or visit him in his office and tell him, but he stop humiliating the President by addressing him in rallies," said Ruto.
He added: "The performance of the Jubilee Government cannot be compared with that of all the years that Raila has been in government. He has nothing to show for all those years at the helm of the country's leadership."
Ruto said since assuming office, the Jubilee government had built 750km of rail from Mombasa to Naivasha, 7,500km of road, connected five million Kenyans to power and constructed more technical colleges, among others.
He defended the 'hustler' narrative, saying it was all about ensuring creation of opportunities for all and not politics of the rich versus the poor as claimed by his detractors. 
"They should not threaten us by telling us that the 'hustler' narrative is about inciting chaos. For the longest time, they have fed us with tribal based politics and politics of creating positions for a select few but today we have forced them to talk about the needs of mwananchi such as wheelbarrows and businesses so that they can sustain their families," said Ruto.
"There are those trying to threaten us by saying we are dividing the country through this 'hustler' narrative, but I want to tell them that they are the ones that are diving the country by telling us about tribal based politics and creation of more positions for a few. Kenyans want peace," he added.
Ruto also criticised the Building Bridges Initiative, claiming that the priorities of a section of the political class was misplaced and faulted the what he said was the push for a referendum to "create more positions in the Executive instead of addressing the plight of Kenyans".
Content created and supplied by: Laurascarlet (via Opera News )