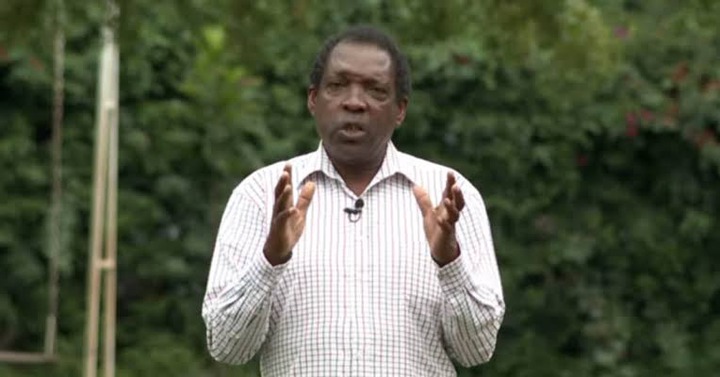 Political analyst Herman Manyora has been one of those vocal political analysts who have been always looking for avenues to demean DP Ruto. Mutahi Ngunyi who has also been better about Ruto's presidency together with him have never found anything good in DP Ruto. They have always claimed that even if there is no any other candidate in the ballot box, they can never make a mistake of voting for Ruto.
Today, Francis Atwoli claimed that the M-pesa agents should become Safaricom employees and also have an earning. He requested the parliament to make constitutional changes so that this could be implemented. However Daniel Nyaga who is a critic of the government rejected this and asked what would prevent anybody from opening an "agent" in every dark alley of the city so that they can become employees? Would anybody be unemployed in the country if that were the route? 
He also said that calling on M-PESA agents to become employees of Safaricom is trying to rig people into employment in a company that doesn't need them. You can't fool the market that easily with welfare activism, he added. If this is so we should give Safaricom a break and leave MPESA agents alone Safaricom, he claimed.
Daniel Nyaga also attacked Herman Manyora on the same issue. He told him that which is this broad and open idea you have other than herding people to employment through the back door? He claimed that he made a case based on specific points, none of which you have faulted specifically. You prefer evasive generalities of "narrow and closed" he added.
Herman Manyora reacted to say that a bulk of the labour force in this country is in the informal sector that is the SME's drive of our economy. He told Daniel Nyaga on why he can't still see why the country needs to find a way of putting them in a structured formal arrangement?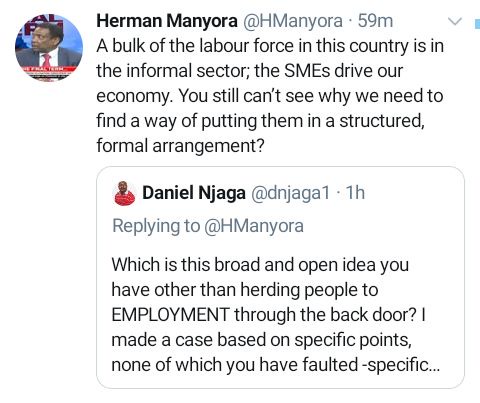 Content created and supplied by: Saladin123 (via Opera News )