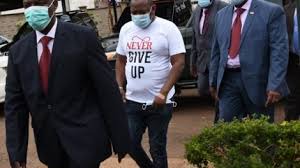 Mike Mbuvi Sonko,the former Governor of Nairobi County was once adiehard of the Uhuruto Jubilee Government back in the 2013 and 2017 general elections.Sonko and the then majority leader of the National Assembly Aden Duale by then were ready to do anything to protect their masters.
Many people came out and told them that in politics there are no permanent friends nor permanent enemies.Orengo even talked about it one day in parliament and warned the Jubilee politicians in parliament that the same government which they are protecting is the same government that will punish them in future.Orengo whent ahead and talked about revolution,of which he said that sometimes revolution eats it's own children.
All this were viewed as nothing by the people who the message was meant to and they continue with their ways of doing things until in 2020 when things started to go wrong for some of them.This leads to the removal of Murkome and Duale in their parliamentary majority leaders.The same problem also catched up with Sonko and he was later impeached as the governor of Nairobi.
His impeachment brought enemity between him and President Kenyatta.Sonko even went out and address es the public about the crimes which claims were committed by the Jubilee government which he was part of,Sonko mentioned some of the crimes that were related to the 2017 general election.
Content created and supplied by: Janjajr (via Opera News )