The heated political changes that have been witnessed for the last four years has made many think that some politicians are enemies for life. This is attributed to the former prime minister Raila Odinga and the current Deputy president William Ruto; they have been exchanging harsh words throughout their tenure. The two formed a coalition in 2007 which never clinched the presidency but they formed a grand coalition with PNU in government making him a prime minister while William Ruto was awarded the ministry of agriculture.
The drift between the two started when William Ruto was removed from ministerial position after various allegations of corruption. Raila Odinga was the boss and he initiated the removal of William Ruto to allow investigation. This was not received with open hearts from the people of Rift Valley; Raila here made a political suicide.
Recently, a coalition of quadruple is likely between Kalonzo Musyoka, Musalia Mudavadi, Moses Wetangula and Gideon moi leaving Raila Odinga out. The quadruple have been crying fowl for endorsement from Raila Odinga claiming they have been supporting him for many years even after his last bullet. Former prime minister never welcomed their request but he buried it deeply and come out to condemn it ; he is not endorsing anyone but he is ready to meet them on the ballot and beat them squarely.
Raila having been left out , he had no option but to make an imminent handshake with William Ruto before it's too late.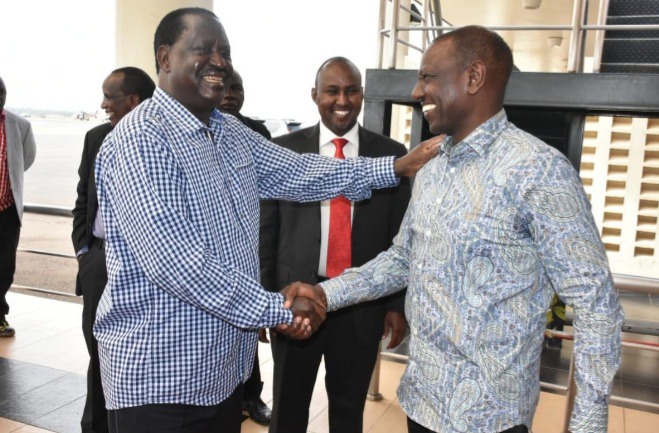 It has been uneasy month in political arena for Raila Odinga after coastal counterpart led by Mombasa governor Ali Hassan Joho that they have had enough in extending support for Raila Odinga and his turn to help them is now . Hassan Joho is ready to clinched the top seat through ODM party .
Content created and supplied by: Activevenom (via Opera News )