Idi Amin Dada was a brutal president of Uganda whom, many innocent people died in his hands during his regime. His government was full of extra judicial Killings and corruption.
In January 1977 Amin appointed General Mustafa Adrisi Vice President of Uganda. That year, a split in the Uganda Army developed between supporters of Amin and soldiers loyal to Adrisi, who held significant power in the government and wanted to purge foreigners, particularly Sudanese, from the military.
The growing dissatisfaction in the Uganda Army was reflected by frequent coup attempts; Amin was even wounded during one of them, namely Operation Mafuta Mingi in June 1977. By 1978, the number of Amin's supporters and close associates had shrunk significantly, and he faced increasing dissent from the populace within Uganda as the economy and infrastructure collapsed as a result of the years of neglect and abuse. After the killings of Bishop Luwum and ministers Oryema and Oboth Ofumbi in 1977, several of Amin's ministers defected or fled into exile.
In early 1978, Adrisi was severely injured in a car accident and flown to Cairo for treatment. While he was there, Amin stripped him of his positions as Minister of Defence and Minister of Home Affairs and denounced him for retiring senior prison officials without his knowledge. Amin then proceeded to purge several high-ranking officials from his government and took personal control of several ministerial portfolios. The shakeup caused political unrest and especially angered Adrisi's followers, who believed that the car accident was a failed assassination attempt.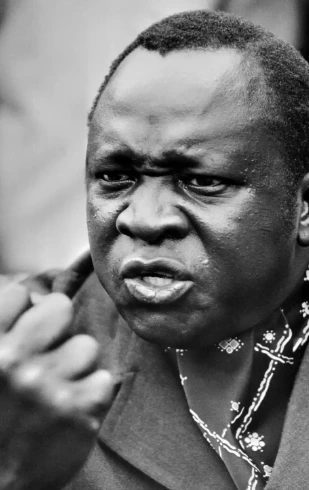 In November 1978, troops loyal to Adrisi mutinied. Amin sent troops against the mutineers, some of whom had fled across the Tanzanian border. Fighting consequently broke out along the Ugandan–Tanzanian border, and the Uganda Army launched an invasion of Tanzanian territory under unclear circumstances. According to several experts and politicians, Amin directly ordered the invasion in an attempt to distract the Ugandan military and public from the crisis at home.
Other accounts suggest, however, that Amin had lost control of parts of the Uganda Army. Accordingly, the invading troops acted without his orders, and Amin sanctioned the invasion post facto to save face. In any case, Amin accused Tanzanian President Julius Nyerere of initiating the war against Uganda after the hostilities had erupted, and proclaimed the annexation of a section of Kagera when the Ugandan invasion initially proved to be successful. However, as Tanzania began to prepare a counter-offensive, Amin reportedly realised his precarious situation, and attempted to defuse the conflict without losing face.
The Ugandan President publicly suggested that he and Nyerere participate in a boxing match which, in lieu of military action, would determine the outcome of the conflict. Nyerere ignored the message.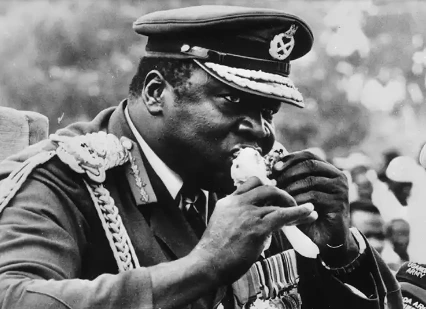 In January 1979, Nyerere mobilised the Tanzania People's Defence Force and counterattacked, joined by several groups of Ugandan exiles who had united as the Uganda National Liberation Army (UNLA). Amin's army retreated steadily, despite military help from Libya's Muammar Gaddafi and the Palestine Liberation Organisation (PLO). The President reportedly made several trips abroad to other countries such as Saudi Arabia and Iraq during the war, attempting to enlist more foreign support. He made few public appearances in the final months of his rule, but spoke frequently on radio and television. Following a major defeat in the Battle of Lukaya, parts of the Uganda Army command reportedly urged Amin to step down. He angrily refused, and declared: "If you don't want to fight, I'll do it myself." He consequently fired chief of staff Yusuf Gowon.
However, Amin was forced to flee the Ugandan capital by helicopter on 11 April 1979, when Kampala was captured. After a short-lived attempt to rally some remnants of the Uganda Army in eastern Uganda which reportedly included Amin proclaiming the city of Jinja his country's new capital, he fled into exile. Amin first escaped to Libya, where he stayed until 1980, and ultimately settled in Saudi Arabia, where the Saudi royal family allowed him sanctuary and paid him a generous subsidy in return for staying out of politics. Amin lived for a number of years on the top two floors of the Novotel Hotel on Palestine Road in Jeddah. Brian Barron, who covered the Uganda–Tanzania War for the BBC as chief Africa correspondent, together with cameraman Mohamed Amin (no relation) of Visnews in Nairobi, located Amin in 1980, and secured the first interview with him since his deposition. While in exile, Amin funded remnants of his army that fought in the Ugandan Bush War. Though he continued to be a controversial figure, some of Amin's former followers as well as several rebel groups continued to fight in his name for decades, and occasionally advocated for his amnesty and even his restoration to Ugandan Presidency. During interviews he gave during his exile in Saudi Arabia, Amin held that Uganda needed him, and never expressed remorse for the brutal nature of his regime.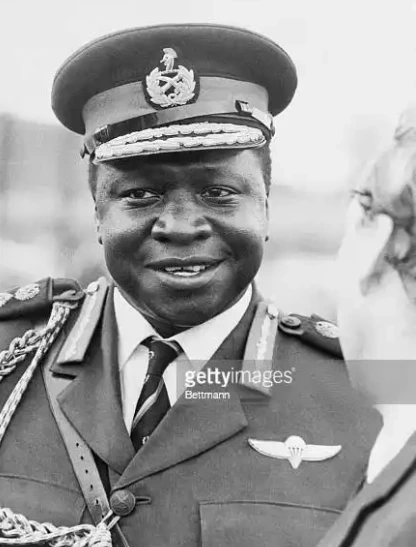 In 1989, Amin left his exile without authorization by the Saudi Arabian government, and flew alongside one of his sons to Zaire. There, he intended to mobilize a rebel force to reconquer Uganda which was engulfed in another civil war at the time.The rest of his family stayed in Jeddah. Despite using a false Zairean passport, Amin was easily recognized upon arriving with Air Zaïre at N'djili Airport, and promptly arrested by Zairean security forces. The Zairean government reacted unfavourably to Amin's arrival, and attempted to expel him from the country. At first, Saudi Arabia refused to allow him to return, as its government was deeply offended that he had "abused their hospitality" by leaving without permission. The Zairean government wanted neither to extradite Amin to Uganda where the ex-president faced murder charges nor keep him in Zaire, thereby straining international relations. As a result, Amin was initially expelled to Senegal from where he was supposed to be sent to Saudi Arabia, but the Senegalese government sent him back to Zaire when Saudi Arabia continued to refuse Amin a visa. Following appeals by Moroccan King Hassan II, the Saudi Arabian leadership finally relented and allowed Amin to return. In return, Amin had to promise to never again participate in any political or military activities or give interviews. He consequently spent the remainder of his life peacefully and quietly in Saudi Arabia.
In the final years of his life, Amin reportedly ate a fruitarian diet. His daily consumption of oranges earned him the nickname "Dr Jaffa" among Saudi Arabians.
Content created and supplied by: Flincher_Nation_News (via Opera News )
Opera News is a free to use platform and the views and opinions expressed herein are solely those of the author and do not represent, reflect or express the views of Opera News. Any/all written content and images displayed are provided by the blogger/author, appear herein as submitted by the blogger/author and are unedited by Opera News. Opera News does not consent to nor does it condone the posting of any content that violates the rights (including the copyrights) of any third party, nor content that may malign, inter alia, any religion, ethnic group, organization, gender, company, or individual. Opera News furthermore does not condone the use of our platform for the purposes encouraging/endorsing hate speech, violation of human rights and/or utterances of a defamatory nature. If the content contained herein violates any of your rights, including those of copyright, and/or violates any the above mentioned factors, you are requested to immediately notify us using via the following email address operanews-external(at)opera.com and/or report the article using the available reporting functionality built into our Platform See More