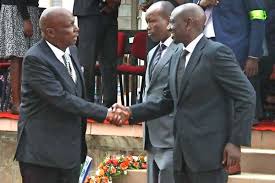 Gideon Moi has shown all indications that he will stop at nothing in his bid to win presidency in 2022. He wants first to gain enough support in Rift Valley before moving to the rest of the country.
Gideon Moi is looking to beat William Ruto not only in Riftvalley but as well across all corners of the country. He has already been at the forefront championing for BBI agenda in the country to ensure that it sails through.
It's clearly evident that Gideon Moi political profile in the country has been rising exponentially. He today enjoys massive support not only in Baringo county but as well in several other areas across the country unlike before when he did not have any support.
Gideon Moi is looking forward to have president Uhuru Kenyatta endorse him for presidency in 2022. It's something very likely owing the former late president Moi as well endorsed Uhuru Kenyatta against all odds despite him not having any enough support to win presidency in 2002.
It's also likely that if president Uhuru Kenyatta endorses Gideon Moi for presidency majority Rift Valley residents as well across all corners of the country will support his bid. If this happens therefore we are likely to see him defeat William Ruto not only in Rift valley but as well all corners of the country as we might have all leaders supporting BBI support him for presidency against William Ruto.
Content created and supplied by: Nyandu (via Opera News )