Opinion: Why Raila should be the last person to advise Ruto on quitting Jubilee
In the past weeks Raila has been criticising Ruto and group. The BBI master mind has untold Political differences with his former student. Recently, he told off Ruto to quit government if he can't share the same floor with his boss. He also warned churches to reject what he called ' dirty money' obtained through fraudulent deals.
He dared Ruto to take the path that his father took when he resigned from a government he helped to form. Oginga resigned for the benefit of Kenyans after he disagreed with Kenyatta over a number of issues.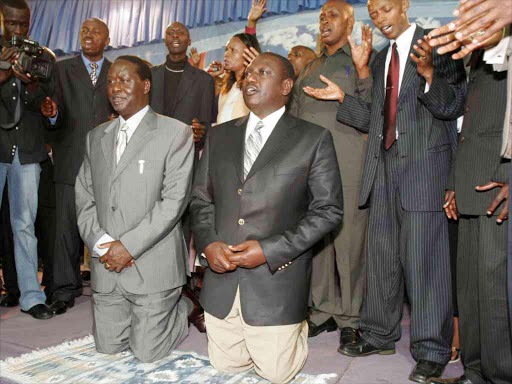 Raila should not be advising Ruto to quit when he himself didn't quit when he was in similar situations. First, he and Kibaki came together to outdo MOI's candidate in 2002. Raila ran the campaign trail for Kibaki while he was away on treatment.
They had a memorandum with Kibaki to make him the prime minister after they won. Though it wasn't in the Constitution by then, they had agreed to create it - something that never happened. After Kibaki was sworn in, he appointed him minister for housing and public works instead of making him a prime minister.
This is where his disagreements with Kibaki began. He opposed the same government that he was part of. He openly criticised Kibaki and went on to form his own Political party. He held on to power until he was sacked by Kibaki in 2005 after successfully opposing the then proposed new constitution. He himself didn't quit why is he advising Ruto to quit!!
In 2007, he faced the same situation. After the mediation, he was made the prime Minister. He continued Having troubles with Kibaki administration. Most of his orders were not honored by his juniors. His two deputies including Kenyatta were at some point powerful than him. Despite all these he still held on to his position until his term elapsed. Why should he advise on something he is not good at?
Additionally, he has been seeking the presidential seat multiple times but no success. He has not shown plans of quitting until now. He isn't the right person to advise Ruto to quit.
Content created and supplied by: BEATKING (via Opera News )