(
Lamentations 3:23)
They are new every morning: great is thy faithfulness..
Lord I come before you this morning thanking you because of your goodness and mercy.Thank you for the good thoughts that you have for me to prosper but not to harm me.
"Thank you Lord for protecting me from the arrows that fly by night and day.You have bent their arrows and broke the bows of my enemies .You have exposed their wickedness and put on top of roof
I thank you because your word can not return to you empty but you accomplish it's intented purpose.You have done to me what you did to our father Abraham by fulfilling the promised son Isaac at an old age which brought laugher to them.
I sought you at night and You answered by giving me sound sleep, breath, sound mind, peace, salvation and Protection that was paid by the blood, pain, suffering, and the cry of Jesus on the cross.
"I thank you Lord because out of your mouth no evil but only good come out of it.Lord cause my mouth and heart to flow the living waters that brings healing to the broken hearted and the afflicted in my environment..
Make me to be a letter that read and admired by everyone.Make me to a. noble vessel in your house to used all the days of my Amen.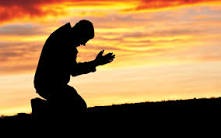 (Photo courtesy)
"
Content created and supplied by: Hannahh (via Opera News )