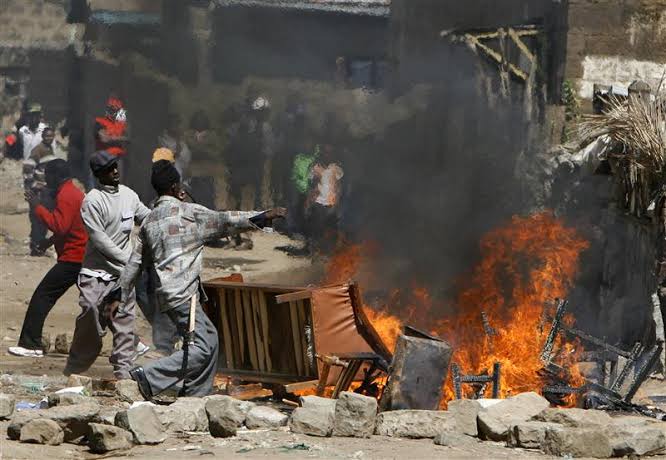 (photo credit by Facebook; post election violence 2007/2008)
If you are a keen citizen and have been following the Kenyan politics oflate, you can tell that the political environment in Kenya is already saturated. People are divided into tribal and political groups. Everybody is willing to do anything to see his or her political leader winning the 2022 general elections. This may however have great impact on whether Kenya will have a peaceful election or not
My advice as a writer and a patriotic citizen is to urge Kenyans to have a self centered battle and pick themselves this time round to avoid chaos politically, electorally and physically. 
BBI was intended to join us as Kenyans but it has made a bigger crack than just tribe. It is now a division between rich and poor, have and have nots. 
Kenyans should think past Raila and Ruto to stay away from turmoil after elections. In the event that Raila wins, Ruto's base will accuse both the election board and the President for double-crossing him and possibly system manipulation. Regardless of whether Ruto loses reasonably, Hustler development will not be prepared to acknowledge the defeat. 
H.E President will in any case be there to regulate handover but will not have control on the following chaos brought about by both of the losing group among Raila and Ruto so somewhat Kenyans will be all alone. The military can do little to rescue in light of the fact that the law orders them not to favour one side. 
If at all Kenyans love themselves, they need to sit and consider themselves and alternatives past Raila and Ruto. This will be harder than giving out a kidney but 2022 is simply subject to substitute decision to guarantee harmony and stay away from violence. 
Seventeen months can change a story with Kenyans choosing we need harmony, we need solidarity, we need one country! The year 2022 is the hardest election year Kenyans will actually see again in their lives.
Content created and supplied by: News_Flix (via Opera News )