Honourable Paul Joseph Ngei was born on 18th October, 1923. He was a Kenyan politician who was imprisoned, for his role in the anti-colonial movement. Ngei, went on to hold several government ministerial positions, after Kenya became an independent State.
He was one of the Kapenguria six team team Amongest Jomo Kenyatta, Fred Kubai, Bildad Kaggia, Kung'u Karumba and Achieng Oneko, which was condemned to the Lokitaung Prison in Lodwar in 1952 over its anti-colonialism ideologies.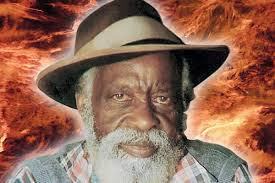 Photo of Bildad Kaggia, one of the Kapenguria Six
The Kapenguria six team finally slipped out of jail, and Kenyatta became President in 1963, Ngei as well, also went ahead to serve in several ministries, including the ministry of lands.
Paul Ngei was also known for his love for women, a characteristic, that saw him being nicknamed (Fagia Dunia) which meant 'the sweeper' by his fellow colleagues.
According to the Daily Nation publication, which was dated September 2017, this member of the Kapenguria six was at some point summoned by the court, to testify in the murder probe of Ms. Judy, who was the daughter to his fellow Minister Jackson Angaine.
This publication further said that he had dropped Judy to her home the night before her death, and when he was asked by the defence what he was doing with her, his answer was straightforward. "Well, I would say that's a silly question. You shouldn't ask a man why he was in the company of a beautiful lady. Every normal man wants to have a nice looking woman next to him!" Honourable Paul Ngei said.
It emerged that the minister, Paul Ngei, who later succumbed to diabetes, did not fully let go of his habit even as he grew older.
Content created and supplied by: Newnews.com (via Opera News )