An angry DP Ruto's self proclaimed point man has strongly condemned Uhuru Kenyatta led government, claiming it's like a "No" government as he hails serious allegations and sends serious warnings to Uhuru's government.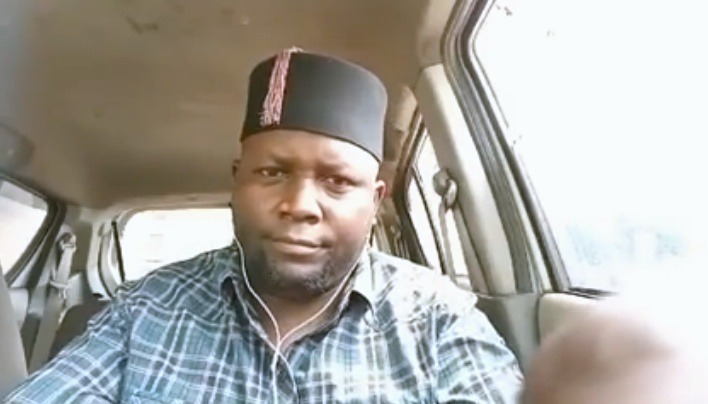 Blogger J.K Malema(Photo/Facebook)
Renowned Kenyan blogger commonly known as J.K Malema in a Facebook TV, has claimed he is tired of constant attacks directed at the Deputy President William Ruto since the handshake marriage between President Uhuru Kenyatta and ODM supremo Raila Odinga which happened in 2018.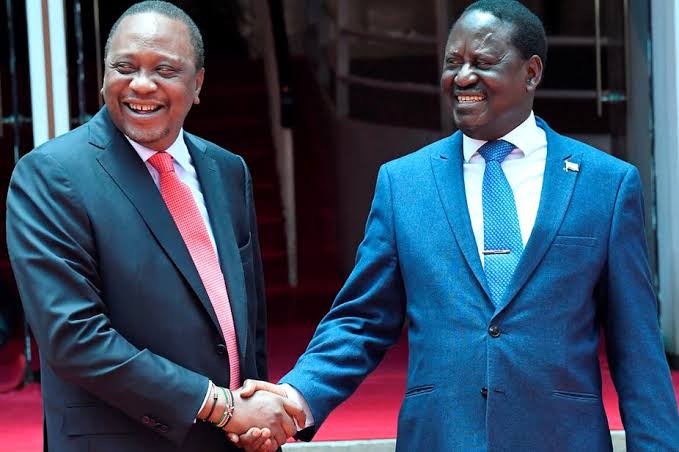 President Uhuru Kenyatta and former Prime Minister Raila Odinga during the unveiling of Handshake agreement(Photo/Facebook)
"We elected President Uhuru Kenyatta and Deputy president William Ruto expecting them to fully guard us,but things changed after the 2017 elections," Malema said angrily.
"Since the handshake, you've been attacking the Deputy President claiming he is a thief, yet Uhuru knows well what's going on. The money is being stolen by those in the government,even the DPP said you should ask Uhuru,"he added.
Malema also claims that the Deputy president was not invited to State House when President Uhuru and some leaders were taking the Covid-19 jab,a move that prompted the DP to take the Sputnik V vaccine that has since been banned by the government from entering the country.
"You called in leaders to state house to take the free Covid-19 jab and leftboutvthe DP. Mlitaka aende Kibra achukue jab ya Covid-19?" He posed.
"We are happy and support his decision to import another jab. Ati mnauliza mbona alienda akachukua jab ya 11 thousand, kwani aliwaomba pesa? Ata kama ingekuwa ya 1million tugemuomba achukue ili hawa wakora wasituletee. These jabs you claim are free ata mimi Malema siwezi nikadungwa hizo takataka," he angrily added.
Deputy President William Ruto(Photo/courtesy)

Malema has also made serious allegations, claiming there have been plans to kill the Deputy President William Ruto,dragging the name of late Juja MP Francis Waititu into this as he claims he is the one who chaired one such plans yet the government did not do any serious investigations.
"Na tunajua mnatafuta njama ya kumuua the Deputy President but he is clever," Mulama said.
"Am telling President Uhuru Kenyatta,this country is for all Kenyans. You kept quiet when people were planning to kill DP Ruto,a goup that was chaired by the late Juja MP," Mulama added.
The fierce blogger also called on Uhuru's government to explain where Ksh.2billion Uhuru claims disappear everyday goes to,claiming Uhuru has only 502days left to govern and have the DCI ,the police force, the army yet he cannot do the simple investigation but rather puts all blames on the Deputy President.
Mulama also warned the media houses to stop "harassing" and "abusing" the second in command. He claims they are being used to incite the hustlers to fight against themselves. He also told off Jubilee chairman David Murathe for who he alleged to have said DP Ruto have revived Mungiki,adding that even the Mukingi were real hustlers fighting for their rights.
Mulama constantly warned during his speech that the country will burn if "these people" proceed, noting the Kalenjins won't fight Kikuyus as the said people are trying to incite them against each other as "they" want. "They are all hustlers as he puts it.
SOURCE: Mutembei TV
Click on the link below to watch the full video; https://www.facebook.com/Mutembei254/videos/3755530011210109/
Content created and supplied by: The_Corridors (via Opera News )