According to Tuko News, numerous of people are reacting on social media. These is after a 98-year-old woman cried after seeing her son and niece after one year.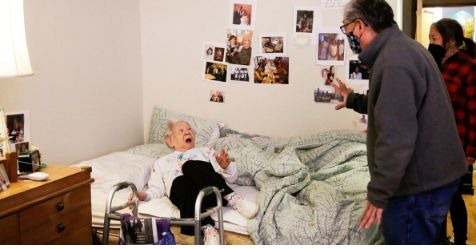 The woman is a Japanese but she stays at Seattle in the United States. Her names are Yoshia Uomoto. The got very emotional to an extent that she cried after being visited by her son and niece.
The county had imposed a law that stated their will be no visitation especially the aged during lockdown. Unfortunately the lockdown had been operating for a year.
Most people on social media are still urging the son and niece to keep on caring for the mom. Apart from that Mrs Yoshia was also cheered up on social media for the love she has for her son and niece.
Some of the tweets were had follows," what a fabulous reaction, I am so happy for the woman and the family."
Otherwise share with us your thoughts on the comment section. I will also get back to you with more lifestyle news. Let's stay safe and be safe.
Content created and supplied by: RoughWesley (via Opera News )