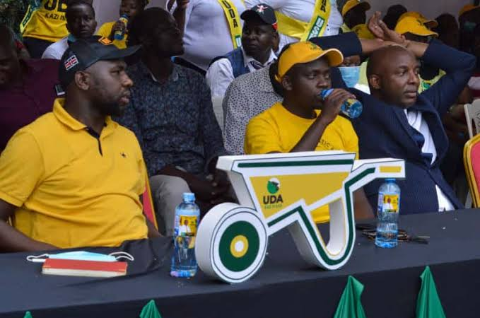 No one saw this coming. The manner UDA party was hatched, concepted, and presented had alot of flaws with it. It's is often said by the UDA affiliates that it's just a PDR party revamped.
However talking about the long term of UDAs survival, i think it's far fetched. The ideologies they are trying to sell doesn't fit well with the Kenyan society. Truth be told. I mean the party even doesn't have one loyal member. Except a few power hungry individuals seeking political relevance considering their dinosaur like agendas.
Their so claimed leader hasn't even identified himself with the newly formed political outfit. Only donning a yellow cap with captions 'hustlers clerk'. Surely who's fooling who now. The UDA party was said to have around 150 members who themselves haven't quit their political outfits so as to endorse the so called UDA.
UDAs fall from grass wouldn't hurt them since they didn't get a chance to fly from their slumber. It's quite unfortunate that they haven't been able to bag a serious political seat in both parliaments.
As far as i know this political outfit was a way of former Machakos senator Johnson Muthama to test his ability to convey a meeting or what we call a 'BARAZA'. Take it to the bank any day anytime UDA will not see the light of 2022 January let alone December 2020.
Content created and supplied by: RealGithiri (via Opera News )