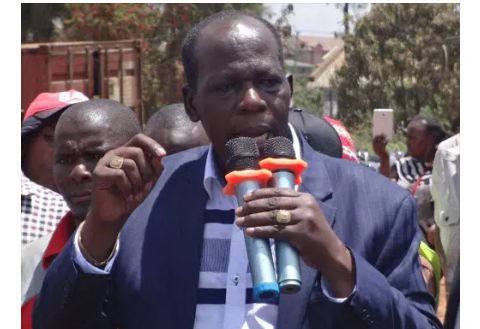 Kenyans woke up to the sad news of the demise of Former Juja MP and government chief whip George Thuo.
According to friends and relatives, Thuo died on Sunday night after he collapsed while having drinks with friends at a club in Thika town at about 10 pm. He was rushed to a nearby hospital where he was pronounced dead.
The businessman was elected MP in 2007 and had served Juja Constituents for less than 3yrs before his election was nullified over irregularities.
In an interview with Jeff Koinange, Thuo revealed that he had given his personal number to everyone; having put it on the billboards, newsletters in Juja as well as on his website so that his constituents could reach him with ease.
A research on Thuo's life and times revealed very little about him as he has kept minimum information about him in public. However, we managed to gather the following.
. Date Of Birth
. Born 14th February 1967.
. Thuo George
. The Late George Thuo, Former MP Juja
Education
No records are found about his secondary and higher education is found online. However, I managed to establish that, George Thuo was a pupil at Gatumaini Primary School in Kiambu in the late seventies and early eighties.
Work Experience
Business
Hon. Thuo was known for his involvement in City Hoppa, an urban transport company.
He was also once the managing director of the defunct Kenya Bus Service PSVs and later Stagecoach buses. He also manged another company, Redline Limited.
Previous Political Positions
In 2007 he was first elected as an MP on a Party of National Unity (PNU) ticket to represent Juja Constituency. He also served as the then Government Chief Whip.
April 2010 he lost the parliamentary seat after a court nullified the 2007 election results of Juja Constituency citing irregularities.
September 20, 2010, Thuo lost his parliamentary seat to William Kabogo (NARC-Kenya), through a by-election coming third after Alice Wambui of Kenya National Congress.
Parliamentary appearances
George Thuo will be remembered as an active MP for having spoken 247 times in Parliament between when he was elected government chief whip to nullification of his election in April 2010.
Till his death, Thuo was managing his chain of businesses including Redline Limited and Citi Hoppa among others.
Please Don't forget to leave a comment and follow for more news updates.
Content created and supplied by: Hustlerscandidate (via Opera News )