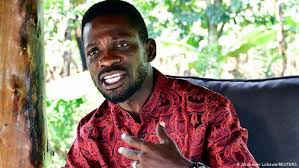 Bobi Wine is doing whatever humanely possible to defeat president Yoweri Museveni in tomorrow general election. He has vowed to ensure president Museveni 35 year rule is cut short through the ballot.
Some political analyst opine that president Museveni goose is cooked owing Bobi Wine is using the youth and women who are the majority in Uganda to spearhead his ambitions. If they support him and vote in large numbers then Museveni should as well kiss presidency goodbye.
Museveni speaking to CNN as well confirmed his fear by affirming that if he will defeated he with honourably retire to his home in Uganda. He confirmed that he will however not allow foreigners to decide who was good for Uganda and who was not as well actualised his threat by closing all social media platforms something that has been condemned widely world widely.
Tomorrow election is however a big test for Museveni and he might lose the election given majority of the youth associate with Bobi Wine. It's seemingly possible to have Museveni defeated in the tomorrow election a reason he has been using the police to intimidate and kill Bobi Wine supporters just like happened in Kampala recently.
Time however will tell as we are counting hours for Uganda to decide whether they want Museveni 35 year rule to continue or have a different president. Seemingly Museveni 35 year rule might be coming to an end given Bobi Wine is largely supported by the majority youth and women in Uganda who are tired with Museveni continued hold onto power.
Content created and supplied by: Onestrong (via Opera News )