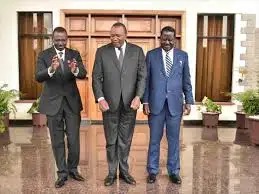 Both the proponents of this campaign are expert liers who are the top cream of the society and who well understand the Kenyan mind which is simplistic and very tribalistic which is great for manipulation.
They know what exactly is going on,they are playing and occupying the Kenya mind political emotions such as betrayal,tribal emotions is being whipped ,which at the end leave Kenyan mind not think about the real happenings in the ground such as corruption, poor service delivery and bad governance which has made it possible for widespread poverty and lack of common sense.
They use divide and rule tactics long used by the colonialists to suppress Kenyans then is now being repeated via tribal political rallies, this is evidenced by the words thrown around by different ethnicities in kenya.At the end of the day the proponents of this crafted movement are smiling all the way to the banks and tax havens as they loot our resources as we play and dance to their sweet tunes.
Content created and supplied by: Brichen-1998 (via Opera News )