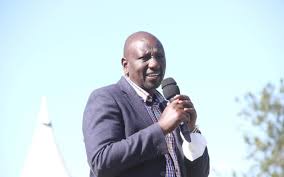 Powerful political figures are very fearful of William Ruto wheelbarrow movement. It's obvious parties have different political slogans but this for Ruto has unsettled many and rubbed them the wrong way.
Wheelbarrow movement is associated with UDA political party and its intended to empower the common citizen. It's something that largely resonates with the common man hence dealing powerful political figures in the country a heavy political blow.
The wheelbarrow movement is campaign led by William Ruto and one which is set to dethrone the status quo which has been there for a long time. It's speaking the mind and resonates very well with the citizens from all corners of the country as it's non tribal.
Wheelbarrow movement is associated with the hustlers who struggle hard to earn a living everyday. It's for this reason that it's enjoying massive support across all corners of the country as it's seen as empowering the common citizen from poverty.
The powerful political class fear that this political slogan might heavily affect their political ambitions. They lack another slogan powerful as that to counter William Ruto wave which has surpassed the tribal mentality of Kenyans. Kenyans have realised that even if their tribal king is president he/she will never change their furtunes as experience has confirmed it. They would rather associate with a slogan that empowers them to be positive minded however state they were in.
Content created and supplied by: Onestrong (via Opera News )