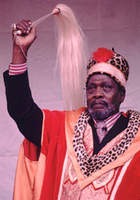 Mzee Jomo Kenyatta era had only a handful of real movers and shakers.
One of them all, Geoffrey Karekia Kariithi's tenure at the heart of Kenyatta's inner circle offered him the opportunity to ensure that the image of Kenyatta's government remained untainted.
His 12-year perch at the peak of the civil service was not without its share of drama and crisis.
According to Walking in Kenyatta Struggles by former CBK Governor Duncan Ndegwa, what really stood out about Kariithi was his presence of mind in all happenings of the Kenyatta administration.
Some of his headaches included the fall-out between President Kenyatta and former Vice President Jaramogi Oginga Odinga and the nuisance caused by remnants of the Mau Mau guerilla fighters, some still hiding in the forest demanding a proper reward.
He had also to deal with the backlash that the government faced after the deaths of Pio Gama Pinto, Tom Mboya and Josiah Mwangi Kariuki, popularly known as JM.
According to Daily Nation, dated March 31, 2019, during his tenure as the head of civil service, Kariithi managed to curve 3.5 acres of land, which belonged to Public Service Club in Upper Hill Nairobi where he was also a pioneer trustee.
This would come back to haunt his family after his death in 2012, as the National Land Commission started investigating how he acquired the land, then valued at Ksh 2 billion.
In June 2016, the Court of Appeal barred the family from taking possession of the land on the basis it belonged to the Public Service Club.
Content created and supplied by: wanjogunewshub (via Opera News )