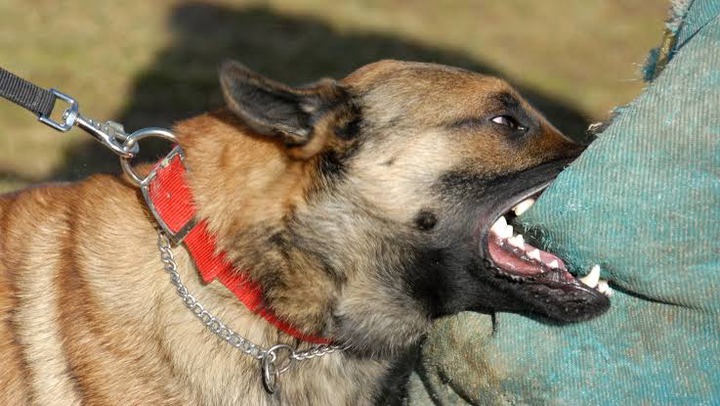 Bite wounds from dogs can range from minor to life threatening and need to be treated quickly to prevent infection or traumatic complications. Not having had a tetanus shot in five or more years increases tetanus risk and a booster shot may be recommended.
The potential for infection from a dog bite is extremely high. Dog bites inoculate bacteria deep into tissue, and while not as aggressive as cat bites, the majority of dog bites get infected. Common bacteria involved in such infections include Streptococcus, Staphylococcus, and Pasteurella.
Three important treatment issues that need to be addressed with a dog bite:Skin damage,Injury to underlying tissues such as muscle, nerve, and bone and infections. Therefore,here are 7 things to do immediately if you are bitten by a dog:
1.Quickly Assess The wound and wash the bite with soap and water. Assess the wound. If there is no blood, wash the bite with soap and water as soon as possible. If the wound is bleeding, apply pressure with a clean cloth for approximately 5 minutes or until the bleeding stops. Then, wash the affected area with soap and water. Flushing the wound liberally with clean water can decrease the odds of a dog bite infection. If possible, keep the affected area above the level of the heart to prevent swelling and infection. If the wound is open, loosely cover it with a clean bandage.
2. Find out the health condition of the dog
If possible, ask the dog's owner for a copy of the animal's vaccination records. This information will help your physician decide what kind of follow-up treatment is necessary. If the dog is a stray, call animal control. They will attempt to find the dog and check for rabies. If the dog has not been immunized for rabies, the question becomes whether to immunize the patient against the rabies virus. A variety of approaches may be considered depending upon the situation surrounding the bite.
3.Apply the counter antibiotic cream.
One is advised to apply over the counter antibiotic cream if available before you see the doctor. This will help reduces the spread of the bacteria,
4.Visit a doctor immediately
Seeking immediate medical attention should be the first step to take when bitten by a dog. Make sure you reach out to a doctor especially if you are bleeding excessively. 
Content created and supplied by: Ridhaa (via Opera News )