Code warm juveniles are tiny, well protected animals. They have a large shell on their back and have several pairs of swimming legs on the underside. The warm is purely marine, found in the Atlantic, parasitizing some fish species.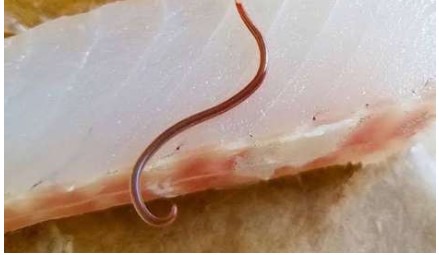 Photo: morphology of a code liver warm/file
Cod and haddock offer a good forage for humans, but also suffer a great deal from numerous amazingly grotesque parasites, the most common being the cod warm with a fascinating way of life. The code warms start their life as small non parasitic larva, paddling through the marine habitat. This is their first short lived stage that undergoes sever transformations, ending up with a larger organism with a pair of grasping hooks at the front of its carapace.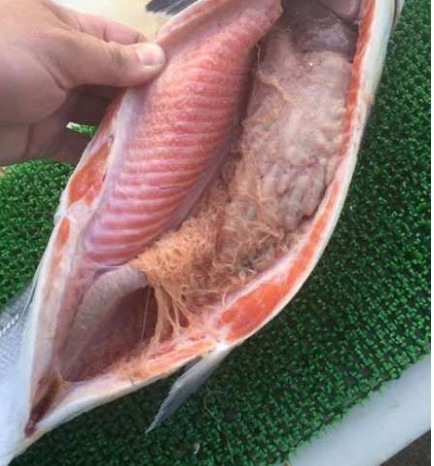 Photo: the code warm on its host/file
The hooks offer them a great deal, as they use them to gain access to their first hosts, the slow rotund fish called the lump sucker. The warm then uses its clawed limbs to attach a thin filament into the fish to extract blood. This stage allows the worm to assume a series of developmental stages, waiting for its mate to come along. The female and male will eventually mate and, the female, now with fertilized egg, will transform yet again into another longer form.  
The female, with the maturing eggs in her abdomen, takes her leave off the lumpfish and adopts another non parasitic stage, in search for the final host. She uses tiny sensory cells to taste the waters and detect even the slightest hint of their host's odor, in this case the cod and their relatives. After finding the host, the parasitic crustaceans swims straight to its gills, and uses its hooked appendages to grip the delicate tissues of these organs.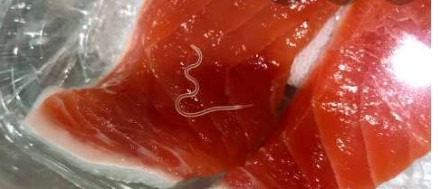 Photo/file
Here, the females go through one last transformation, changing into a fascinating animal. The adult cod warm is incomparable to any organism, as in some instances it might even look like one of the cod's organs that has fallen out of place. Its front part then penetrates through the body of the fish and eventually enters the rear part of the heart. Here, it acquires all the nutrients required for its survival and releases the next generation of its progeny into the sea.
Content created and supplied by: Omukuti (via Opera News )