Lake Natron is a mineral-rich soda lake in Northern Tanzania, at the border with Kenya. It is in the Gregory Rift, which is the eastern branch of East African Rift. The lake is within Natron Basin, a Ramsar site wetland of international significance.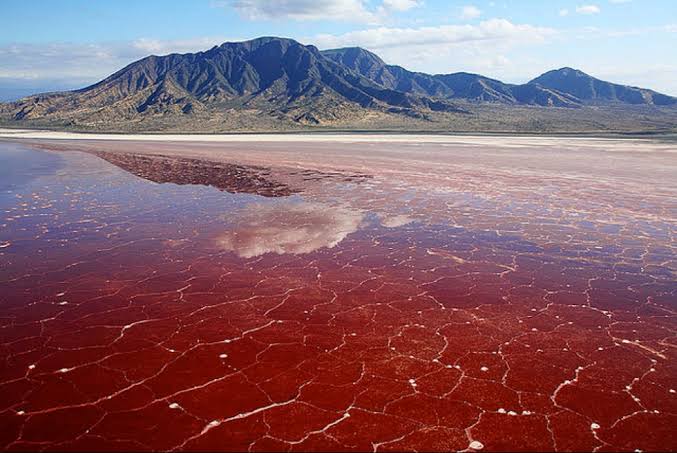 There is high levels of evaporation in the lake leaving behind natron(sodium carbonate decahydrate) and trona(sodium sesquicarbonate dihydrate). The lake has a high alkalinity with a pH of 12 and above.
It has a surrounding bedrock composed of alkaline, sodium- dominated trachyte lavas that were laid down during the pleistocene period. There are significant amounts of carbonate in the lavas but very low calcium and magnesium levels. This makes the lake to concentrate in caustic alkaline brine.
Lake Natron is source of some of the most phantasmagorical photographs ever captured. These are images that look as though living animals had instantly turned into stone.
The caustic nature of the lake can burn eyes and skin of animals that are not adapted to it. Deposits of sodium carbonate-which was once used in Egyptian mummification, acts as a fantastic type of preserving animals unlucky enough to die in the waters of Lake Natron.
Although, the animals didn't simply turn into stone and die after coming in contact with the lake's water, according to some media reports. Infact, Lake Natron's alkaline waters have supported a thriving ecosystem of freshwater wetlands, marshes, wetland birds, tilapia and algae on which large flocks of flamingos feed.
Photographer Nick Brandt, in a book titled "Across the Ravaged Land", has captured haunting images of the lake.
There were remains of flamingos and other animals with chalky sodium carbonate deposits that Brandt discovered.
In his book, Brandt wrote, "I unexpectedly found the creatures — all manner of birds and bats — washed up along the shoreline of Lake Natron,". "I took these creatures as I found them on the shoreline, and then placed them in 'living' positions, bringing them back to 'life,' as it were," Brandt wrote, referring to the way he repositioned the animals. "Reanimated, alive again in death."
The shallow lake is used as a breeding ground by 2 million lesser flamingos during the breeding season, with their nests built in small island that form in the lake during the dry season.
Content created and supplied by: ZippySpeaksHealth (via Opera News )