The first installment of POTC introduced us to pre teen Elizabeth Swann and young Master Turner, he was floating on planks, the sole survivor of a shipwreck and she was aboard one of the Imperial company ships.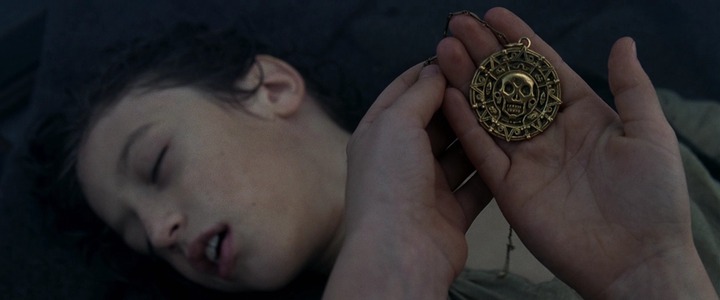 Credit: pinterest.com.au
Jack Sparrow, He's a wizard.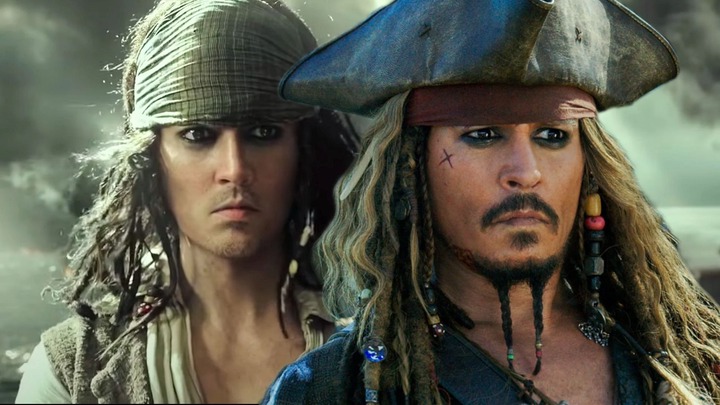 Credit: screenrant.com
Jack Sparrow in conversation with the two redcoats in a boat before Elizabeth falls into the sea, is telling them of a time when he was fighting a beast and intimates something very similar to the kraken in a later installment, The Dead Man's Chest.
Either Jack had spells of rum soaked visions where he could see into the future or Tia Dalma was doing a good job of keeping him abreast of his impending woes.
Some would argue Jack was being generous with an account of his escapades as he is well known to do regardless this was very specific and no rum was involved.
The Prison Dog
This dog is introduced to us in Curse of The Black Pearl as a guard's dog carrying the prison keys and appears trained not to give in to the demands of anyone behind bars.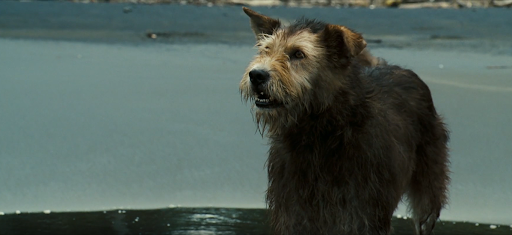 Credit: blackpearlminute.com
He is lost to us until we hear Pintel and Ragetti argue whether divine providence led the dog to them and aided their escape or not, suggesting the dog had become suggestible.
In Dead Man's Chest the dog is last seen on the beach being pursued by natives who are predisposed to make it their Chief before killing it to release his which they believe is trapped in the body. 
Imagination cannot help us figure how this self same dog ended up in Pirates Cove guarding keys to The Pirate's Code.
One can only conclude this dog is somehow tied to the Sparrows and that whenever there's a Sparrow it shall be as well.
Turner Boys.
That William Turner is found in the debris left after an altercation between pirates and the company yet he cannot remember being aboard a pirate ship or even that he had a pendant on him is truly amazing. That his son spends his youth stowing onto the Flying Dutchman tells us a lot.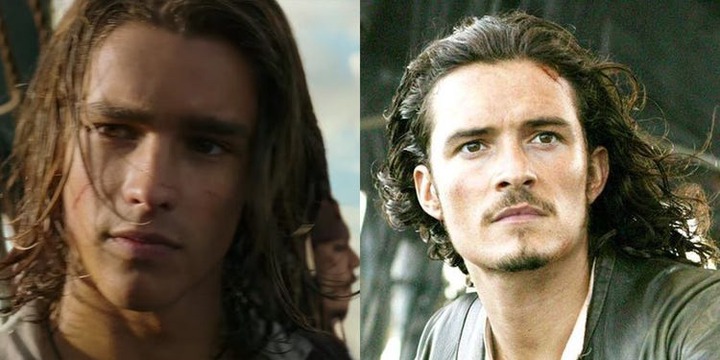 Credit: pinterset.com
Maybe Swann kept it and lied to save his little neck but still, if he was on board a pirate ship wouldn't he be able to recall that and know his father was a pirate? Otherwise how should we explain his presence in such a questionable scene.
Unless he was faking everything just to stay alive and well in modern society after having witnessed the death of his pirate friends. What ship could he have been on, we can only guess. regardless we know the Turners will always be drawn to the sea.
However, His incessant objection to Jack's revelation of his father's true profession cements in our doubts that Will Turner had been raised and fed on deceitful wiles by the benevolent Mayor at the insistence of Elizabeth. 
Content created and supplied by: Count_Burbong (via Opera News )