Ant-decapitating flies are tiny organisms measuring approximately 5mm long. Their wing color ranges from brown, black and yellow and have large delicate wings, long legs and bristly heads. They are diverse in the tropics, but are typically found at any place inhabited by ants. 
For safety, ants in their colonies appear in large numbers, having their nests guarded with the snapping jaws of the countless invertebrates. However, many animals, including the ant-decapitating flies have become specialists in making the ants a delicacy. The flies are adapted to terrorizing the ants in a gruesome way, especially in the tropics where leaf cutter ants are in their abundance.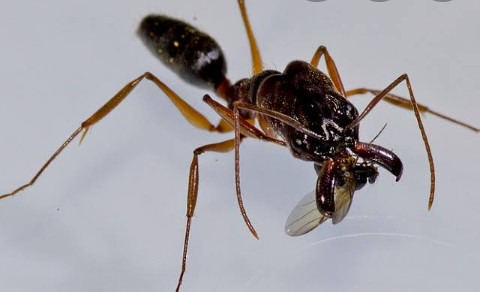 Photo: An adult anti decapitating fly/file
Leaf cutter ants, as they move about the forest floor in their normal activities as foraging, they are very unaware of the danger that is awaiting them from their predator, a female ant-decapitating fly, about to lay its eggs. The fly makes a fast flight towards the ground and lands on the back of its target, which is many times bigger than its size. Some ant-decapitating flies will only prey on one species of ant, whereas others may use a handful of species.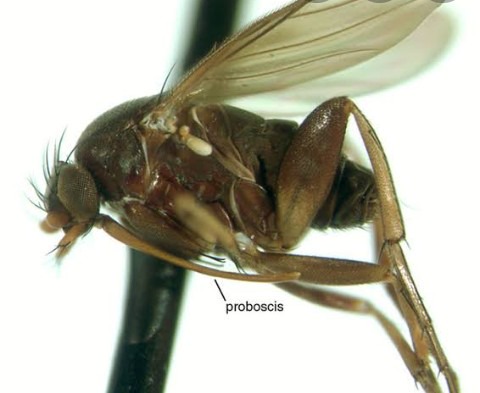 Photo: an image of the fly showing its proboscis/file
The fly pierces the ant using her sharp laying tube and deposits her egg in the head, thorax or abdomen of the ant, depending on the desired species. After depositing just, a single egg, the flies take off to find more potential hosts. The deposited egg will hatch into a larva and if it was initially deposited in the thorax or abdomen, the larva wriggles its way up to the head of the host.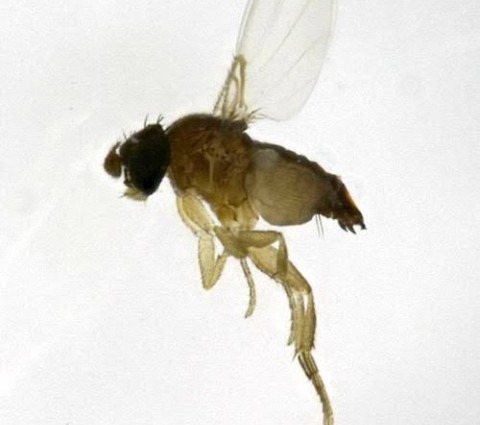 Photo: an ant decapitating fly in motion
In the head, the larva settles down to feed on the muscles and tissues that make up the head. The atmospheric conditions of the tropics make the larva to grow and develop rapidly, emptying the host's head of all the edible matter. The head capsule will drop off and the larva completes its development in the remaining small shell. Provided that the ant's nervous system has several small brains along its length unlike the mammals, it controls other activities normally, despite having an intruder. 
Content created and supplied by: Omukuti (via Opera News )