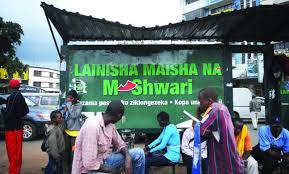 M-Shwari is a paperless banking service that enables you to register and run a bank account through M-PESA. The account is operated via your mobile phone meaning you doesn't need fill out any application forms in order to borrow any loans.
As far as M-Shwari limit is concerned, the service enables you to borrow as Kes 100 and up to 50,000. This is charged a monthly One-Time levy fee of 7.5%.
Regards to raising and unlocking of new limits, M-Shwari normally does it based on your eligibility status. This status has always been attained by regularly using M-PESA. M-PESA usage here means that for you to unlock new limits, your should transact consistently via deposits, withdrawals and even paying of bills. Tbis activity leads to a regular transfer of funds in and out of your M-PESA account thus allowing M-Shwari to unlocks or raise your loan limits. Besides this, M-Shwari also unlocks your new limit as along as you've actively been using Safaricom services; example are data and voice services.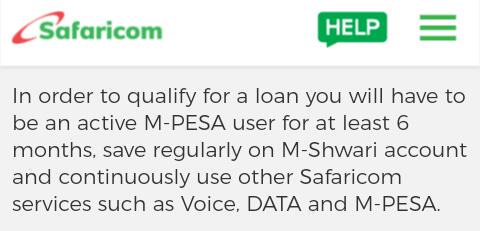 (Source: safaricom.co.ke)
However, in the most recent M-Shwari announcement to all its loan defaulters, it has indicated that a new loan review is ongoing, only for those accounts which had defaulted their loans. M-Shwari promises to unlock new loan limits which varies from one defaulter to the other.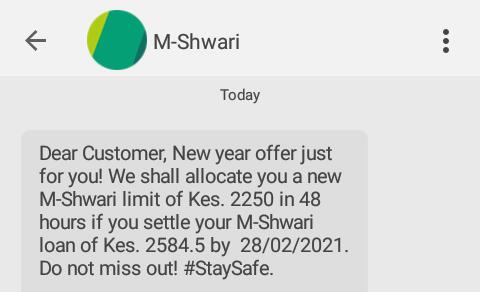 (Announcement source: M-Shwari)
As seen in the message above, a loan defaulter who had delayed the repayment of loan worth Kes 2584.5 is awarded a limit of Kes 2250 within a period of 48 hours after settling the debt. However, the allocated limits to respective defaulters vary depending on the amount of loan one awes M-Shwari.
Content created and supplied by: Business_KE (via Opera News )