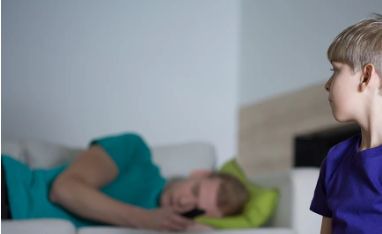 Depression affects a spectrum of people, and that includes parents. Unfortunately, the fact that a parent is dealing with depression does not abscond them of the duty to rear a child. There are, however, modifications that can be done by the said parent and people in their environment to lessen the burden while still bringing up the child in the way it should be brought up.
The first thing is for the parent to enrol in therapy sessions. Working with mental health professionals will help this depressed mother or father know how to set a reasonable boundary between them and their child when the former is having a depressive episode. Reasonable boundaries can look like the parent taking the child to daycare for three or so hours a day so the parent can meditate or go for their therapy session. During this hours the parent can decide not to do any activity related to their child such as cleaning up their crib or worrying about whether the child did their homework or not. The parent has to be selfish for a little while so he or she can be healthy and sane to take care of their child.
The second thing is for the parent to ask for help from other people. Help can be in form of a house help, or asking the parent's younger relative to come and stay with the family for a while so the relative can be playing with the child sometimes, or taking it for walks or teaching the child how to draw. Help is necessary because people in depressive states are sometimes extremely irritable, and when a parent has no one to help him or her rear his or her kid, and they are stuck in th same room with the kid for hours on end, the parent can lash out at the child, and this child will get irritated and start crying, and the parent will tell even more, and they might even do something that can hurt the child permanently on the extreme end of the anger issues spectrum. Therefore, there should be someone to spend time with this child when the depressed parent is irritable or wants to withdraw from everyone.
Through going for counselling sessions and seeking for help from others, this parent will do alright in terms of bringing up their kid. Of they really want to get well, they will adhere to everything their counselor tells them to do, and they will spend as much time with their child as they can when they are having good days. These will help both parent and child to come out of the other side alright.
*Picture inserted for illustrative purposes.
Content created and supplied by: Achieng'101 (via Opera News )