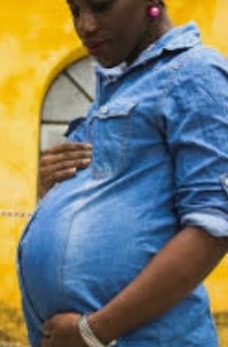 My husband and I took a childbirth class when I was seven months pregnant . We sat in a room in the basement of our local hospital with other first-time parents and we learned all about labor and delivery. Our instructor coached us on different ways to cope with labor pains. She showed Power Points of the various pain medications, and empowered us to make our own choices when it came to them.
Side-by-side we sat while we practiced swaddling a doll, changing its diaper and giving it a bath. We quizzed each other on the different stages of labor and took notes on hospital bag packing . I got to bounce on an exercise ball and lean against him in a slow dance, swaying side to side as we practiced getting through imaginary contractions.
A week and a day after our last class, my water broke in our bed at 4:30 AM. I was on the phone with the birth center as the contractions started coming three to five minutes apart. Our baby was breech, so we knew it was almost time for the baby to come out. It was coming, regardless of how much I labored. We rushed to get ready and packed the last minute things for our hospital bags, unprepared since she was coming almost a month early.
I was worried about how close the contractions were coming. We arrived to check at the birth center and I was placed in a gown in one of the triage rooms.We called a doctor who will help us.
I came to a realization then. He wasn't that clueless labor partner that seems to dominate the movies and TV. He remembered the techniques we learned. He offered multiple tips when the pain was getting intense and gently reminded me to tell the doctor my quick and dirty birth plan right before we entered the operating room. I was so focused on how I would manage my pain, how to time contractions, and swaddling a newborn, that I lost sight of the moment I went in. It was a painful experience but I had to try and make it through. If it we're not for my husband who stood by my side I can't imagine what could have become of me.