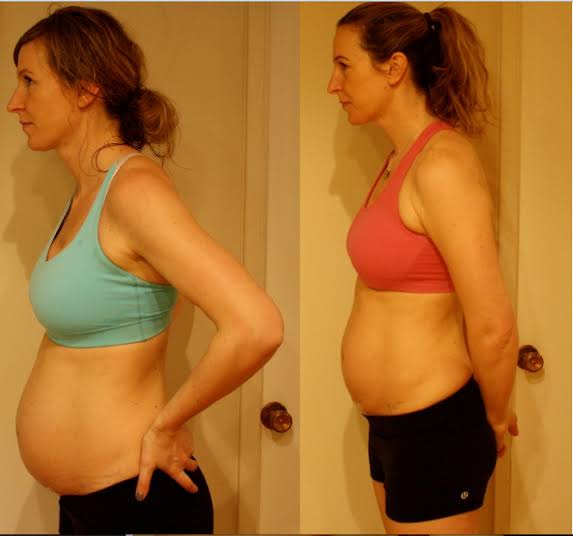 After delivery your belly may not regain its old form and tightness immediately, though this will happen over time. 24 hours after delivery you loose a lot of fluid weight along with the babies weight.
After one week a lot of weight is dispelled in the form of urine while breastfeeding also results in a loss of calories and weight. Effects of breastfeeding and hormonal change will start to show up due to the massive reduction of extra liquid and weight changes will start being visible gradually.
Here are some tips to speed the process.
1. Breastfeeding
This is a natural activity that helps a new mother to burn some calories. However,make sure to eat healthy food to provide proper nutrition to yourself and the baby.
2. Diet
With the right balance of fats,carbs and proteins, diet can go a long way in helping you return to your pre- pregnancy weight.
3. Staying Hydrated
It is important to keep the major bodily functions going including the extermination of extra calories. Therefore,new mothers are advised to drink plenty of water.
4. Exercising
Exercise goes a long way in helping shed those extra pounds. However, start slow and take breaks making sure you don't exert yourself.
5. Ball exercise to reduce belly
With an exercise ball you can try our many abdominal muscle exercises like ball crunch. It's great for strengthening your core muscles and improves your balance.
6. Eating small and frequent
Small and frequent meals will keep you nourished while not overloading your system with too many calories in one go.
Getting back into shape after delivery may seem difficult but with patience and effort you will eventually see results. Remember to breathe and trust the process.
Leave your comment please
Content created and supplied by: LeilaMisango (via Opera News )