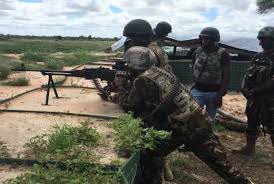 Somalia based militia Al-Shabaab killed soldiers after their vehicle run over a landmine in the Middle Shebelle region.
Sources from Somalia say a convoy of Federal Government of Somalia troops, particularly the 27th Division, was targeted by a landmine in Middle Shabelle region they were on patrol this Sunday.
The attack which killed Somalia soldiers comes when Kenya's Kenya Defence Forces (KDF) in Somalia are planning to leave the country after 10 years of trying to restore peace in the Horn of Africa region.
KDF in Somalia works under AMISOM, but in the recent development, Kenya is considering recalling off its forces from Somalia, which is raising tension in Somalia with security analysts saying Al-Shabaab will become more lethal.
On Sunday, it was reported that an improvised explosive device (IED) struck shortly afternoon in front of a military convoy travelling between Biya-cadde and El-Baraf in Middle Shabelle, killing and wounding several people.
At least three soldiers were killed on the spot and several others were injured when the landmine blasted in Jalalaqsi district of Hiran region on their way to Mogadishu.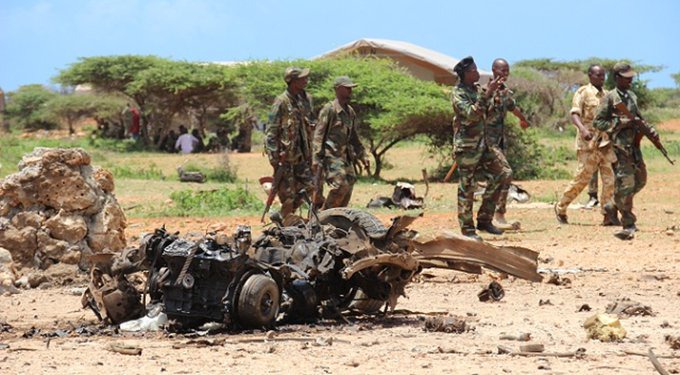 VOA reporter Harun Maruf reports "At least three soldiers were killed, two others wounded following an IED attack in the area between El-Baraf and Biyo Adde, Middle Shabelle region on Sunday. The soldiers were part of the security detail of a military officer, sources tell VOA".
Claiming responsibility, Al-Shabaab said in a statement on its website that a bomb blast in the Middle Shabelle region had killed four government soldiers in a vehicle.
The Sunday attack comes after another that happened last Friday where Al-Shabaab militants targeted a convoy of the 27th Division of the Somali National Army (SNA) in Burweyn, killing and injuring several people. Heavy fighting occurred.
Content created and supplied by: pmeja (via Opera News )