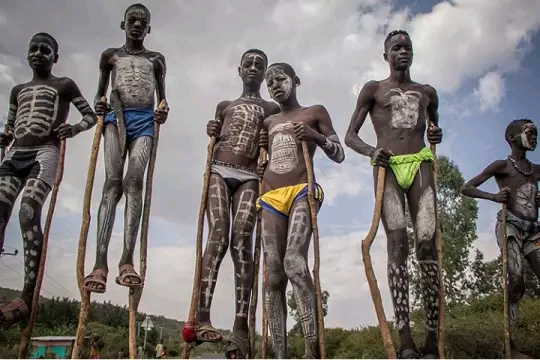 Stilts can be defined as a pair of upright poles with supports for the feet enabling the user to walk at a distance above the ground.
Stilt waking dates back to the 1800s, communities from France used it for domestic purposes, travelling in swampy areas and for agricultural use.
In this century, the art is mostly seen during festivals, street events and parades when people are having fun and remembering their culture.
A tribe from Ethiopia called Banna who reside in East of River Omo are known to be the only African country who still practice stilting. Stories have it that they practice it in order to be protected from wild animal attacks.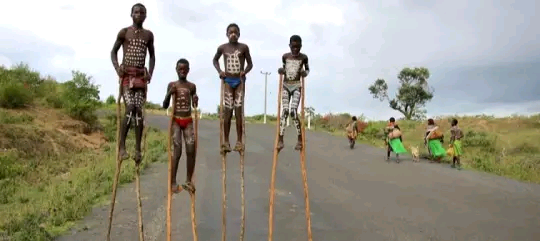 Currently stilting has become a fun sport for many young men in Lower region of Omo i.e just being taller than their colleagues.
This practice has also been attracting tourists from all over the world who want to stilt and also learn the different customs and cultures that have been kept by this community for more than a millennial.
For the Banna boys to show that they have grown into men, they are involved in certain rituals for example, cattle jumping and bull leaping.
He is required to jump across 15 cows and once he finishes, there will be a celebration. Women are to dance, sing and provide the support needed.
It's a requirement for any young man before he is allowed to marry and get children of his own.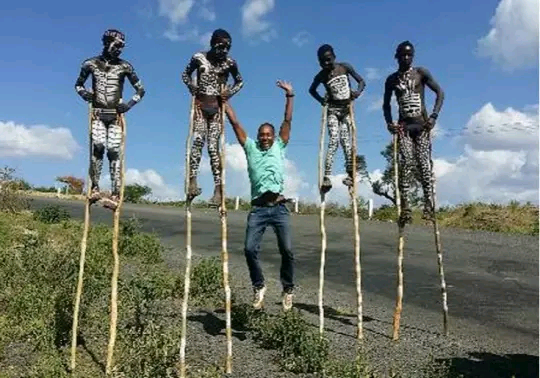 They are mostly Muslims and therefore, the men are allowed to marry more than one wife provided they are able to raise the bride price requirement.
They are also given the permission to marry a widow, a woman with an absent husband especially if it's the brother and also a woman who is divorced.
What is your opinion concerning the above community? Write your thoughts in the comments section below and please remember to follow, like and share. Thank you.
Content created and supplied by: brwnskingirl (via Opera News )