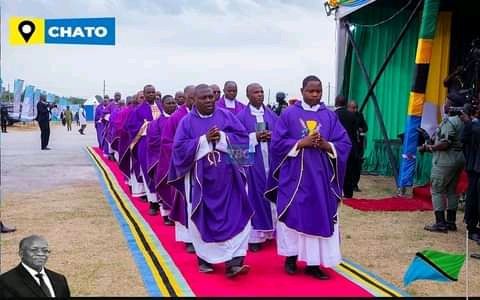 Catholic clergy arrives at the funeral service of the late Tanzania President John Pombe in Chato, Geita province on Friday 26th March 2021. Photo: [TBC Online|Facebook]
Late Dr. John Pombe Magufuli was a staunch believer the Christian faith. He kept on encouraging Tanzanians to put God first in everything especially during difficult times. In one of the videos that went viral after his death, late Magufuli was heard telling people not to abandon their faith in God.
In his burial service conducted by the Roman Catholic Church, the late Magufuli was hailed as 'a good shepherd' talked of by Jesus Christ in the holy gospel books. These were the words of Archbishop Renatus Leonard Nkwande of Mwanza Catholic Archdiocese.
Archbishop Nkwande preached from John 10:11-21 where Jesus talked about him being a good Shepherd who lays down his life for the sake of his flock. A good shepherd, according to the scripture is one who stands firm and is ready to protect his flock against attacks of the enemy.
On the contrary, there's a hired shepherd who will not stand to defend his sheep because his main interest is in payments for the services rendered. When the flock is attacked, the hired shepherd will run away leaving the flock in the hands of the attacker.
In his sermon, the Bishop alluded the character of the late President John Pombe Magufuli to Jesus'. He said that Magufuli stood firm in the word of God and protected Tanzania from attacks of her enemies. Under Magufuli, the preacher said that Tanzania had prospered.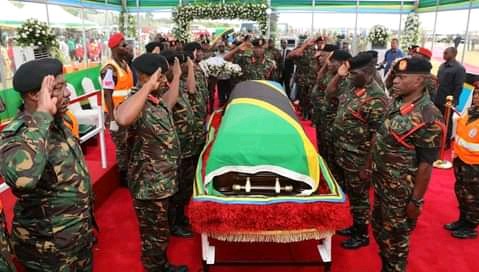 Tanzania military pays their last respect to the late President John Pombe Joseph Magufuli in Chato, Geita province.
As was the case of Jesus towards the end of the scripture, the speaker said that Magufuli was hated by a section of citizens and foreign nations because of the good ideologies he had for his country.
'In this modern generation, it appears backward for a somebody in higher authority to claim their faith in public, " he said, adding," Magufuli was not ashamed of standing for what he believed in, faith in Christianity."
In one of Magufuli's speeches, he said that he was ready to protect his people to the very end even if it meant paying the price. He at one time narrated how he was poisoned by his political enemies.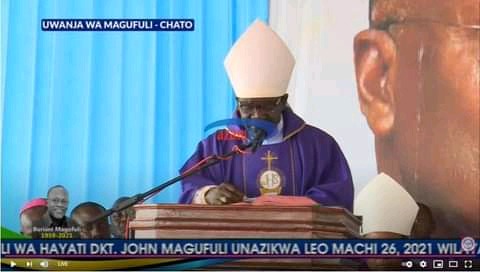 Archbishop Renatus Leonard Nkwande of Roman Catholic Church, Archdiocese of Mwanza during the service of the late President John Pombe Joseph Magufuli in Chato, Geita. Photo courtesy
The last send off of the 5th president of the United Republic of Tanzania, John Magufuli was led by President Samia Suluhu Hassan. Former presidents Ali Hassan Mwinyi, Jakaya Kikwete, government officials and citizens from all walks of life were in attendance.
Content created and supplied by: HeraldKing (via Opera News )