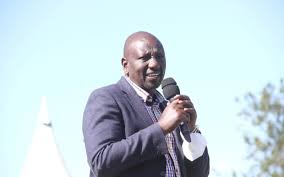 Deputy president William Ruto has been spearheading an hustlers narrative against what he terms as dynasties who believe that the leadership of Kenya just resides in their families. It's this narrative that Uhuru Kenyatta and Raila Odinga want to ear none of it.
The deputy president has however vowed to spearhead and go through with the political narrative however uncomfortable it was to his detractors. He has said severally that 2022 government will be formed by the poor and never the rich.
It's this conversation that makes Uhuru Kenyatta and Raila Odinga feel very uncomfortable as it's directly against them. It's shocking to them owing the narrative according to their allies is aimed at inciting Kenyans against their families.
Therefore the two leaders are doing anything and everything within their power to stop this narrative. It's uncalled for according to this leaders as it will divide the country along class lines.
It's for this reason that Uhuru and Odinga are fearful that this narrative might degenerate badly. It's one of the reasons that Uhuru Kenyatta warned Kenyans against electing a demolition squad while speaking in Kabarak. Time however will tell what happens going into 2022 as the hustlers narrative is very uncomfortable in Uhuru and Raila camp.
Content created and supplied by: Kautelo (via Opera News )