Deputy president officiated his Coastal trip yesterday by launching Mwangulu police station as well as Mwereri Chief office at LungaLunga, kwale county. Accompanied by regional leaders including Aisha Jumwa and Nyali Mp Mohammed Ali,the deputy president opened offices funded by National Government Constituency Development Funds.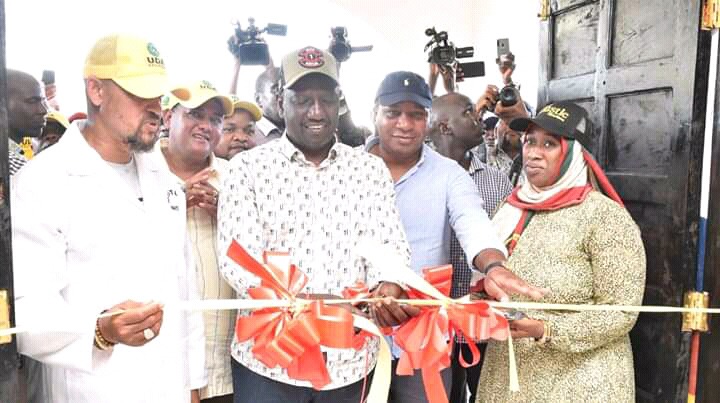 Photo:Deputy President launching Mwangulu police station.
Addressing the residents of Mwangulu in LungaLunga, Ruto further widen his politics difference with former Prime Minister Raila Odinga by attaching the government failure to him(Mr Odinga).He said that the jubilee government had only big 4 agenda,among the agenda they never had Building Bridges Initiative as one of them. He continued to say that since Raila joined hands with President Kenyatta, all the big four agenda are left behind with BBI proposal being given priority as number one.
He said "Ati hawajasambaratisha Sera za jubilee, Sera za jubilee zilikuwa the big 4 agenda,leo big 4 agenda iko nyuma,ile iko mbele ni BBI. BBI haikuwa katika Sera za jubilee, Kuja kwako imevunja jubilee na kuisambaratisha." Why do you claim you have brought no divisions in Jubilee government. Jubilee had 4 big agenda and building bridges initiative was not part of the agenda but ever since you came in,BBI is in to front as the manifesto trailing behind. You brought division in the ruling party."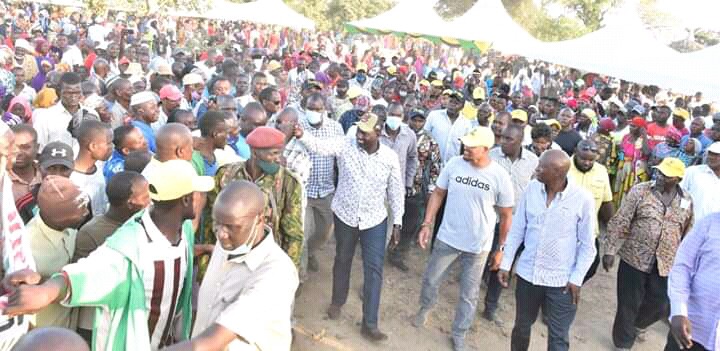 Photo:William Ruto with Mwangulu residents.
This is however not the first time Deputy Ruto is defending the failure of government by using Odinga as the scapegoat. He has constantly said that, Raila is driving the country development agenda behind for a proposal only set to benefit the few in power but not the common mwanchi on the ground. He will today visit areas of Kilifi to meet a bodaboda group before meeting a women groups in the very county.
Content created and supplied by: NgalaDailyNews (via Opera News )