Internet has erupted with Kenyans questioning the whereabouts of the man of God; Prophet David Owour.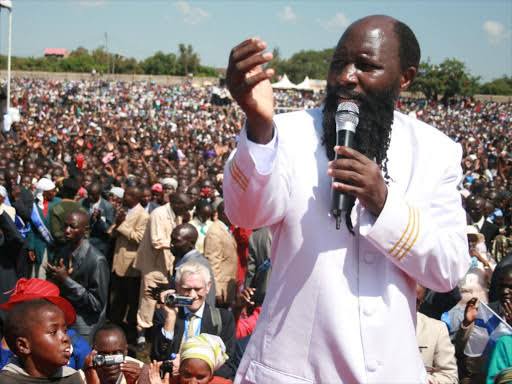 Taking to his Facebook page, Controversial Blogger Abraham Mutai, has posed the question 'is Prophet Owuor still alive?'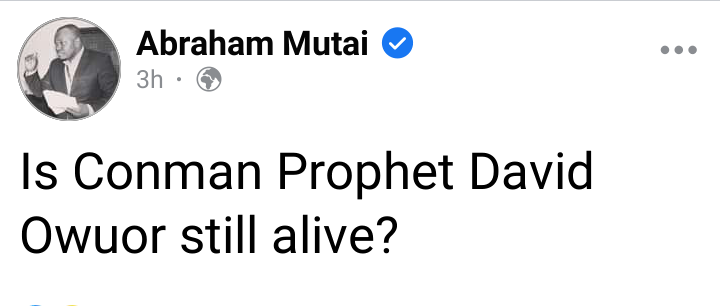 This comes afew hours after Tanzanian President John Pombe Magufuli passed on days after missing from the public limelight. A few days ago, it was Alleged that Magufuli had been flown to Kenya to receive specialized medical treatment. Kenyans had taken to social media and called on Government to mention a thing about the matter.
With Prophet Amour also missing from the public, Kenyans are now curious. Below are comments from Kenyans;
Felix Oduor; The judgment belongs to the Lord,albeit most of his doctrines are not what the Bible talks of if you study your Bible.All the same,his followers are much more confused and pupport that there is no different between God and Owuor.When healing occurs in those gatherings,the claim it is the prophet and they don't Give God glory. Whether Owuor is a true or false prophet,let's worship God and not human beings.However much we repent and put on sackclothe,and still worship Owuor,hell awaits us.
Dennis Waitaba; This man is leaving a wealthy life at mercy of poor followers who were told to give money and close eyes for prayers only to open up and got the man ascended to lavingtone green.
Modekai modi; Explaining science to religious people it is like elon musk explaining mars adventure,wireless charging, electric cars to pastors they will never understand.
Julius Ondiek; Am worried of his followers. One of his followers ensured I was sacked from job recently. I thank God am in a new employment. I think mutai has a sense in his word.
Davy Ngeno; Bible say let's not judge each other cause God alone do that, story na Mungu leave it, twende politics bro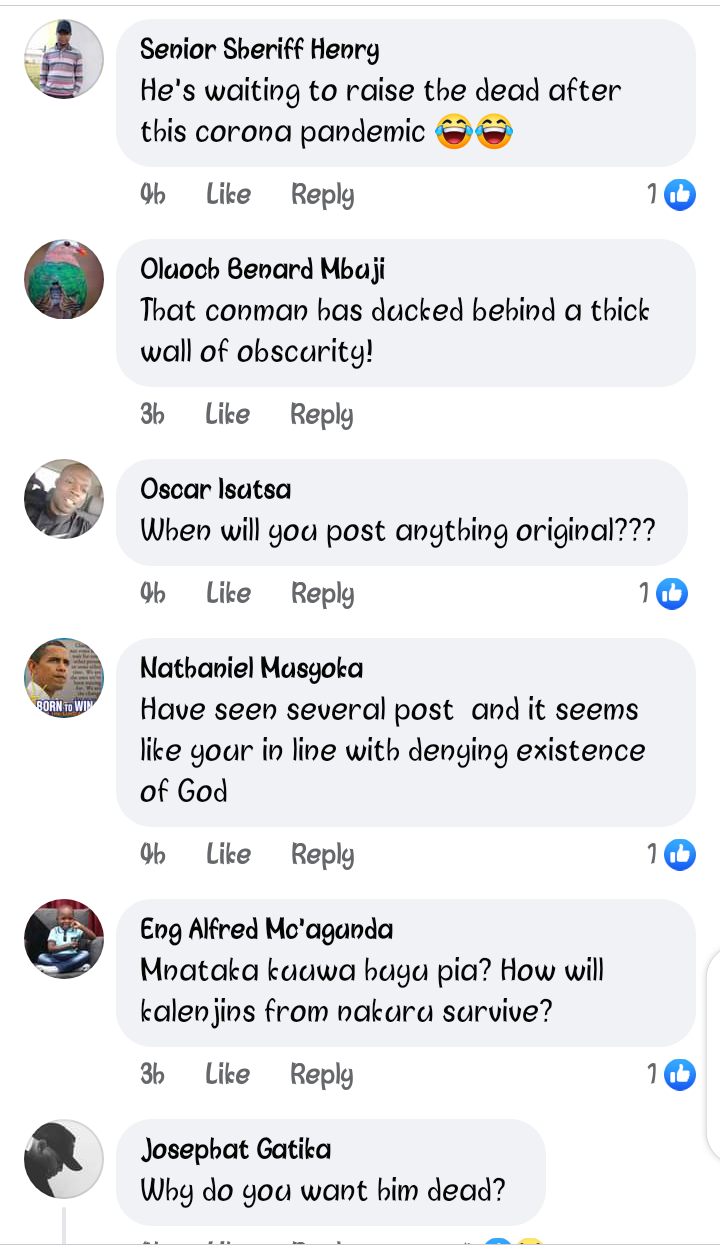 Content created and supplied by: Mkenya.com (via Opera News )