Mummification is the process of preserving the dead among ancient African Societies. Most people think mummies are for horror movies, gothic novels or arcane religious rights. It was performed by a skilled specialist. It was a special way to venerate the dead especially in a belief for after life.
Well known society for this practice are ancient Egyptians, but the Chinese people, Guanches and pre- Columbian societies of south American also practised.
How Mummification is achieved
This process is done by removing moisture from a deceased body using chemicals or natural preservatives such as resin to desiccate the flesh and organs.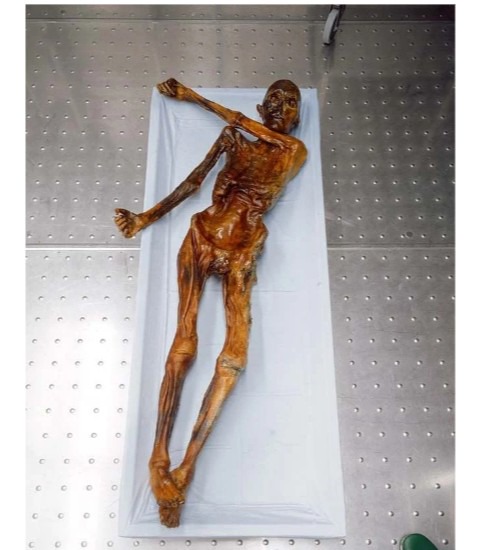 Photo of Otzi iceman mummy
Mummification can occur through unintentional process. This is when a body is exposed to extreme cold, very dry conditions or other conditions that mitigate against decay.
The oldest mummy in record was in North America, in spirit cave outside of Fallon, Nevada and is an example of Natural Mummification. It was found in a shallow grave wrapped in a tule mat, preserved by dry atmosphere and rarefied air of the cave. It was discovered in 1940 and was carbon dated and found to be 10000 years old as Live Science previously reported.
The oldest Egyptian mummy naturally preserved dates to 5500 years ago. It was a body of a young woman wrapped in linen and fur after she died.
The famous Otzi the Iceman , oldest known in Europe lived about 5300 years ago. He was murdin what is now the Italian Alps . The body was preserved in snow and ice until tourists discovered his remains in 1991.
Mummification in ancient Egypt was deeply entwined with the society's religious beliefs. "The ancient Egyptians were obsessed with the afterlife," said Rita Lucarelli, an Egyptologist and expert in Egyptian papyri, or ancient texts, at the University of California, Berkeley. "They believed that there is another life after the life here on Earth." 
The ancient Egyptians believed that when a person died, their spiritual essence survived. This essence went on a journey where it encountered numerous divine and demonic beings, with its ultimate destiny to be judged by Osiris, the god of the dead. If found blameless, the deceased was allowed to live with the gods in an eternal paradise. 
For the body to make this spiritual journey it was believed that the body needed to be intact.
The above photo was taken in 2016 . The man was carrying the body of their mummified ancestor.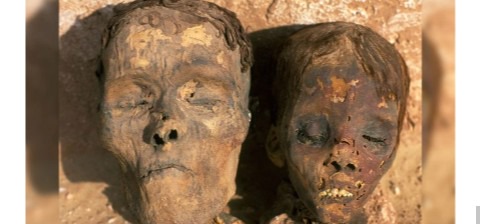 This was discovered by archeologist in Dhakla Oasis ub Egypt.
Content created and supplied by: Fatma99 (via Opera News )