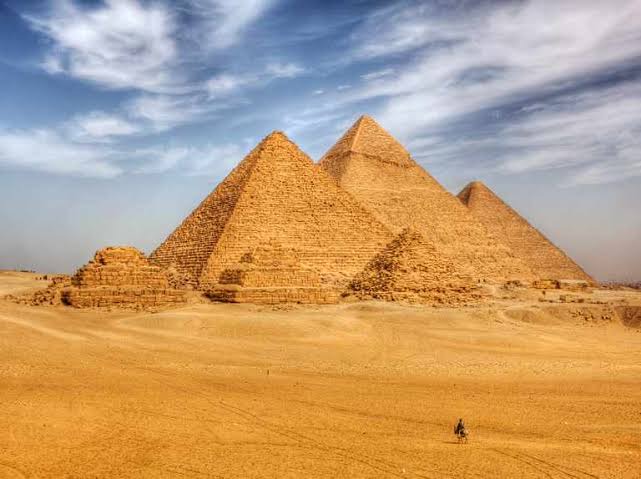 In ancient times they were included among the Seven Wonders of the World. The ancient ruins of the Memphis area, including the Pyramids of Giza
The designations of the pyramids Khufu, Khafre, and Menkaure correspond to the kings for whom they were built.
All three pyramids were plundered both internally and externally in ancient and medieval times. Thus, the grave goods originally deposited in the burial chambers are missing, and the pyramids no longer reach their original heights because they have been almost entirely stripped of their outer casings of smooth white limestone.
Khufu's pyramid is perhaps the most colossal single building ever erected on the planet. Its sides rise at an angle of 51°52′ and are accurately oriented to the four cardinal points of the compass. The Great Pyramid's core is made of yellowish limestone blocks, the outer casing (now almost completely gone) and the inner passages are of finer light-coloured limestone, and the interior burial chamber is built of huge blocks of granite. Approximately 2.3 million blocks of stone were cut, transported, and assembled to create the 5.75-million-ton structure, which is a masterpiece of technical skill and engineering ability. 
Content created and supplied by: @Princejeremy (via Opera News )