Do you have great writing skills that you have been dying to put into use to earn extra cash?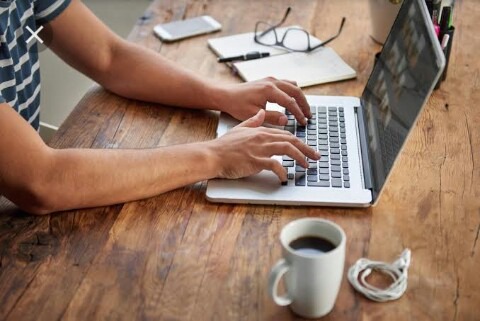 The business of online writing has become very popular in Kenya as it is one of the most common ways of becoming self-employed. You mainly need to be equipped with a computer/laptop and reliable internet. Most people opt to do online writing part-time, however, some have made it their main source of income.
Are you are a beginner or veteran who wants to go to the next level? You have a ton of questions, but nobody out there wants to answer you, especially the veterans?
Everyone is telling you how successful they are. But it looks like no one wants to share the intricate details with you.
Worry no more. Today, I am answering your most critical questions. To make this more interesting, I will make this a conversation between you and me. So, picture me seated across the table, and let's go!
*Is it really true that there are people who earn more than Ksh.100,000 ($1,000) per month doing freelance writing work in their pajamas?*
Yes, it's absolutely true. I will give a few examples that you can easily prove online through a simple Google search.
Tom Nyarunda posted about how he earned over Sh.260,000 in one month. Chepkoech Ann earns over Sh.100,000 per month as a writer. Johnson Gitonga Nderi also wrote about earning $1,268 part-time as a writer.
Search Upwork, and you will see many more local and international freelancers doing $1,000, $2,000, and even $3,000+ per month as article writers.
Hehehe… and yes… you can work in your pajamas if you want to.
*That's amazing! Would you say article writing is easy?*
Nope. It's hard work, just like anything good in life. In fact, when starting, it requires a ton of hard work and dedication.
The good news is that if you do things the right way, things will start getting easier with time.
Nobody should join if they are looking for overnight riches, get-rich-quick schemes, or success without effort. You will be utterly disappointed.
*With the numbers you have mentioned above, I am sure people are drooling right now. What does it take to be a successful writer earning Ksh.100,000 ($1,000) and above?*
Lol… I would tell them to stop drooling first and read again. It requires hard work and dedication to make it. For you to cross the Ksh.100,000 ($1,000) per month mark, you will have to work for every single cent.
Let's start from zero. Let's assume you have never written, and you want to hit Ksh.100,000 per month in the next few months.
You need two things:
1. To write content that clients love: First, you should have good basic grammar and writing skills. Second, you should know what clients want so that you are able to deliver what I call pure gold.
2. You need to be hired by clients who value you: You may not be able to hit Ksh.100,000 with crappy clients. Focus on progressive clients who; pay well, give consistent work, are easy to work with, pay promptly, and communicate professionally.
Knowing how to write a basic article can take you a few days. You can Google the basics or get someone to train you. Once you know the basics, focus most of your time honing your skills, reaching out to clients, and delivering pure gold.
Credibility is huge right now. Someone won't just go into their wallet and pay you. To prove you're credible, you need to quickly create samples and publish them out there.
Reach out to valuable publications and ask for guest posting opportunities. Let's call these high-quality samples "clips".
The more awesome clips you have, the more credible you will look!
Massively reach out to clients. That's hard work. You should apply for at least 10 jobs every single day. The more, the better.
Of course, you should keep improving your skills for the rest of your freelancing life. That's what will get you those top-tier clients that everyone wants.
*Nice. What exactly does article writing entail?*
Good question since many people get this confused. Hehehehe… even some of my close friends don't know exactly what I do.
Article writing is creating text-based content for websites and blogs. It specifically means creating the content that goes to the "Blog" or "Articles" section of a website.
Think of content you have read with titles like:
5 Ways to Lose Weight
10 Amazing COVID-19 Facts
How to Raise Happy Kids
Why You Should NOT Save All Your Money in the Bank
All these are articles.
Some key features of an article include:
1. A catchy title: There's an enormous difference between a title like "Life Lessons" and "7 Life Lessons from a Guy Who Can't Move Anything but His Face". The first one is boring. The second one is mind-blowing! Catchy titles heavily determine the success of an article.
2. An alluring intro: The intro comes next. It must be so alluring that someone just wants to read more. You can start with great thoughts, shocking statistics, a burning question, empathy, humor, etc. On common topics, NEVER start with a definition.
3. Subheadings: Today's readers mostly skim through stuff. They don't read everything. Therefore, have multiple subheadings to make your content skimmable.
4. Bullet points: It's good to have at least one set of bullet points where applicable. This is not mandatory but really helps to make content easy to read. Bullets shouldn't cover more than a third of the article, though.
5. An assuring conclusion: Don't mess up good writing with a lousy conclusion. Close by summing up your main points and give a call to action.
These are just basics. Some clients may want a few more things, but they will include that in their content brief.
No matter what you are taught, always follow clients' instructions. You are free to discuss better approaches with a client. But once done, make sure you do what you have agreed upon.
*How do you get those amazing clients who value you?*
We are so privileged to live at a time when there are tons of ways to get clients. Here are some methods that work for many successful freelance writers:
1. Upwork.com: There are multiple freelancing websites out there, but Upwork is the very best. It's like Google or Facebook. The ultimate king when it comes to getting clients on an online work platform. However, you can get even higher-paying clients through cold-pitching.
2. Cold-pitching: This is like what Kenyans call "tarmacking". You know how job seekers will just wake up in the morning and reach out to multiple companies for job opportunities. With cold-pitching, you identify websites in your niche that look like they can afford your rates, then you pitch them directly. 
3. Job boards: You can get valuable clients from job boards like ProBlogger.com, Listiller.com, Indeed.com, etc. I even once got some amazing clients from Craigslist.com!
4. Reddit.com: Go to Reddit and join subreddits like Hire a Writer.
5. Social Media: Reach out to clients on Facebook groups, LinkedIn, Twitter, etc. You can get fantastic copywriting clients from this Facebook group, for example https://www.facebook.com/groups/copyjobs 
6. Blogging: This takes more time to build up but can have amazing results and become semi-passive. Create an amazing blog, build an audience, and list "article writing" as one of your services. Clients can start reaching out to you directly.
7. Other freelancing websites: I put Upwork.com on its own since it's amazing. But there are other sites like Fiverr.com and PeoplePerHour.com that are fantastic as well. 
8. Networking: If you are a genuine person who likes helping others and connecting with new people, this can be a wonderful way to get clients. People from your networks can recommend their friends or even reach out to you directly with opportunities.
9. Referrals: When you become really good, some of your amazing clients will refer you to their awesome friends.
10. Warm pitching: Simply reach out to people within your circles and see if they need your services. I have often challenged people to message their friends on WhatsApp, text, or call. Some have actually gotten huge deals!
There are many ways to get clients right now. These are just a few. Keep your eyes open for opportunities.
*Should someone pay for training or just use Google and YouTube?*
It's a free world, so everyone decides what works best for them.
For me, I don't like starting from the bottom without a mentor. That's a lonely, unprofitable, and difficult place to start.
You see, Google and YouTube have tons of information, but they may not give it to you step by step.
Some of it may be outdated. You may not get Q and As with the experts. And you won't have an expert literally checking your articles, profiles, proposals, pitches, blog, etc., then honestly telling you exactly what to improve on.
When starting, I didn't pay for training since I couldn't afford it. But as soon as I started earning, I have always paid for courses and bought books.
I have learned from great writers such as Jon Morrow, Carol Tice, Bamidele Onibalusi, and many more. Yes, I paid them all for lessons. And I am still learning from other people at a fee.
A lot of what I know about SEO, PPC, SMM, affiliate marketing, blogging, etc., came from a course I paid for many years from Affilorama.
Tons of my life skills came from books that I keep buying almost every month.
If you totally can't afford to pay someone or just want to test the waters, it's okay. Go to YouTube and Google Learn, then give it your best shot. Who knows? You may end up doing very well.
However, if it doesn't work for you or you want to grow faster, please consider getting trained by an experienced trainer.
*In conclusion;*
Now that you have decided to get into the online writing business, doing your research will help a lot. First, it's important to know what kind of online writing you are good at. Is it blogging, academic writing, Search Engine Optimization (SEO) writing or article writing? Learning two or all the different types of writing will give you a better advantage at finding jobs.
Once you decide on the type of writing you can do best, research on the writing websites you can work with. There are hundreds of these websites including, WritersBay, Uvocorp, Studypool, Essayshark, PayPerContent.net and so on. You can even check Facebook groups of freelance writers where they give advice and some even look for writers.
There are three options of how to become an online writer. You either get hired, register for an account or buy an account. If you are new to online writing, getting hired is most recommended. All you have to do is look for people who have accounts and are looking to hire writers. 
But, it's crucial to verify the people you will be working for and discuss terms and conditions and even have a contract if needed; this ensures that you protect yourself from conmen. Remember to talk about the topics you will be writing about, the work schedule and most importantly CPP (Cost Per Page) payment.
Secondly, you can register for an account; this is normally the hardest route for newbies. However, it's lucrative as you get to be your own boss, get all the money to yourself and choose the articles you want to write. Registering for an account is considered hard due to the process and the requirement needed. The competition is high when registering for an account; you need to be a degree holder, write samples papers and meet the pass mark.
Buying an account has become the most common way to own writing accounts. So, if you have the money to buy an account(s), go for it. The prices differ depending on how much the website pays or how long the website has been in use. 
The biggest downside about buying an account is easily getting conned. As genuine people flock social media advertising for these accounts, so do fraudsters. Before you purchase an account, make sure you meet with the seller face to face and transfer all details before you say goodbye. Also bring a friend along, preferably someone who knows about online writing and go through the account and verify it's legit.
After getting someone you can work with or get your own account, there are unforgivable mistakes you should avoid if you want to become successful in online writing.
First is plagiarism, when you copy someone else's work and pass it off as your own. Most clients use premium plagiarism checker tools and any plagiarized work leads to cancelled projects. This will be detrimental to your account and could in the end lead to suspension or termination of your account. 
Secondly, avoid grammatical or spelling errors as much as possible. You can polish your skills by taking free grammar courses from websites such as like Coursera, Udemy, Alison or edX. Before submitting your work run it through spell checker on the word document or use a tool such as Grammarly to detect errors. You can also give it to someone to proofread it. 
*Finally;* always follow instructions and never miss deadlines. Once you have taken a project, be sure to carefully read the instructions to ensure that you deliver on the client's specifications. Avoid giving unrealistic timelines and give yourself a little leeway between completion time and delivery time, this will ensure you don't miss deadlines.
*Written By:* Timothy Angwenyi
Business Consultant
+254701711058
Content created and supplied by: VinnyNgalia (via Opera News )
Opera News is a free to use platform and the views and opinions expressed herein are solely those of the author and do not represent, reflect or express the views of Opera News. Any/all written content and images displayed are provided by the blogger/author, appear herein as submitted by the blogger/author and are unedited by Opera News. Opera News does not consent to nor does it condone the posting of any content that violates the rights (including the copyrights) of any third party, nor content that may malign, inter alia, any religion, ethnic group, organization, gender, company, or individual. Opera News furthermore does not condone the use of our platform for the purposes encouraging/endorsing hate speech, violation of human rights and/or utterances of a defamatory nature. If the content contained herein violates any of your rights, including those of copyright, and/or violates any the above mentioned factors, you are requested to immediately notify us using via the following email address operanews-external(at)opera.com and/or report the article using the available reporting functionality built into our Platform See More