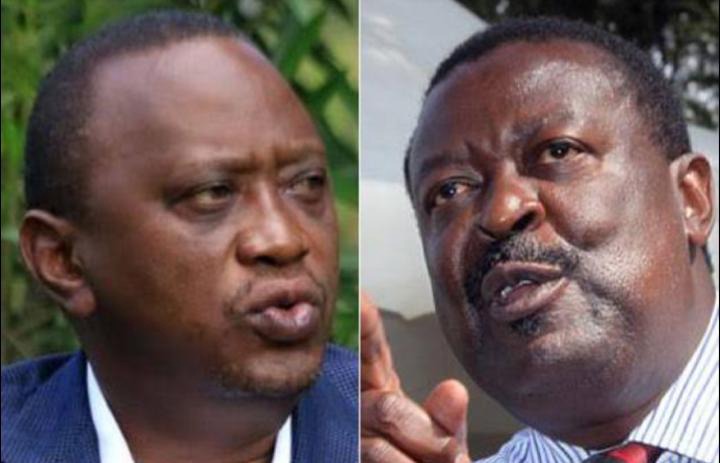 Assuming today the Kikuyu and the Luhya nation decided to vote for Musalia Mudavadi, do you think there is anything that can stop them from making Musalia Mudavadi the president? In this article today I want us to look at why I strongly believe that president Uhuru Kenyatta might be strategically clearing the path for Musalia Mudavadi presidency in 2022. But if you are reading this article on this page for the first time, I want you to take a minute and click the follow button so that anytime I post an article, you will be notified. Back to the issue: what is presidents Uhuru's Kenyatta's game plan for 2022?
As at now the president is still not very clear on the path he's going to take in 2022 but the president is clear on one thing: that he's not going to support his deputy William Samoei Ruto for the presidency in 2022. That's a covenant which has been broken. Around president Uhuru Kenyatta's inner circle there is 4 camps: Those who believe the president should support Raila Odinga because according to them, they believe it's only Raila Odinga who can defeat William Samoei Ruto. The second camp believe that William Ruto should be supported by the president and this is the camp where the speaker Justin Muturi is.
The third camp believes that both Raila Odinga and president Uhuru Kenyatta should support someone else and that's Musalia Mudavadi. Then there's is the last camp which believes Fred Matiang'i should be supported by the president. So those are the camps. But this camp pushing for Musalia Mudavadi if you have been keen, reached out to Musalia Mudavadi sometimes back and they told him that they want to make him the president of Kenya but there are things that he's not doing and therefore he must do first. The first thing is that he must declare his interest for presidency. Six months ago, he was declared the presidential candidate by ANC.
In politics nothing happens out of mere coincidence. In September last year, Ayub Savula who is a close friend of Musalia Mudavadi revealed that the president is going to support Musalia Mudavadi. So by that time people did not take whatever Savula was saying seriously. Then early this year, Savula was again recorded revealing president Uhuru's secret plan for Musalia Mudavadi.
Recently, there was this funeral in Vihiga during the burial of Musalia Mudavadi's mother. President Uhuru Muigai Kenyatta himself stated something which is very serious politically speaking in this country and is likely to change the equation. The president responding to William Ruto's dynasty verses hustler narrative challenged them that if your logic was about 2 families who have ruled the country, then it was safer to say that it is time for other tribes to rule the country.
So that statement by the president should not be taken lightly. Because the president was telling whoever cared that he's not going to support a presidential candidate from the Kikuyu nor Riftvalley nation. He was very clear that the next president should come from outside those two tribes. Most people interpreted that he was going to support Raila or Musalia's presidency while rulling out Ruto presidency.
Now, the fears behind supporting Musalia Mudavadi presidency is that he has not consolidated his region. He does not command all Luhya votes. Another thing that they fear is the revolt from Raila Odinga supporters. They believe that even if Raila Odinga supported Musalia Mudavadi, his support base may not transfer their votes to Musalia Mudavadi. After Musalia Mudavadi manages to consolidate his region, the president will go back to his Central Kenya region and consolidate his people to support Musalia Mudavadi. What do you think? Do you think Musalia Mudavadi presidency is possible or Raila Odinga will win president Uhuru Kenyattas support? Leave your response in the comment section and remember to click the follow button.
Content created and supplied by: OurWorldPolitics (via Opera News )