Amad Diallo is an 18 year old Manchester United player. The talented winger was acquired last summer by Manchester United from Atlanta for a jaw dropping 37 million Euros. That is a lot of money for a teeneger who has hardly gained any first team experience. It is also a measure of how high the kid's potential is. However, he had to wait until January to join the club due to legal issues.
The teenager is yet to make his first team debut, but buzz is already building around him, with fans hyping him to become a good signing once he starts playing for the first team. He has played two games with the under 23 squad and fans have been pleased with his performances. He has already scores 3 goals and assisted 3 in those two matches.
Fans will be hoping he can fill in the right wing position which has long been a problem, with the squad lacking a natural winger. This has led to Greenwood being constantly deployed on the right instead of upfront. Amad breaking into the first team will mean increased productivity down that right wing.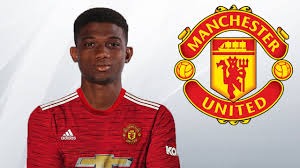 Content created and supplied by: Bikojunior (via Opera News )