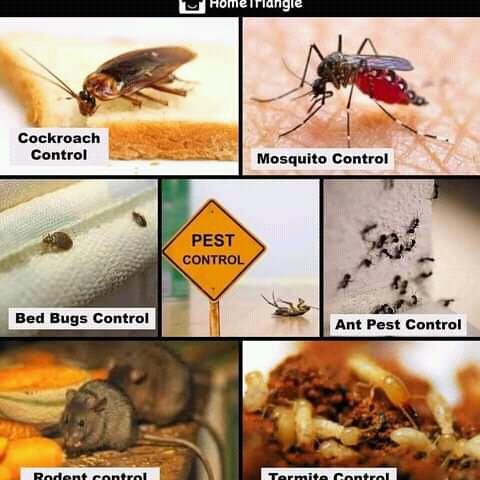 For 'young' people, starting your very own business and becoming self employed is the most suitable alternative to the ever growing hard to get 9 to 5 jobs. 
Today's article will show you how to set up your own Pest Control business in Kenya. 
The Pest Control business is one that can almost never run out of customers, even though it can sometimes be a seasonal business.
Pest Control practitioners essentially exterminate roaches, rats, termites, mice as well as other pests from homes, schools, offices, and other premises.
*How To Start A Pest Control Business In Kenya*
Just how much do you need to start a Pest Control business? What paperwork, and or equipment are you required to have in Kenya? If you are considering this option, here is everything you will need to kickstart your Pest Control business in Kenya.
*Acquire The Needed Training.* 
The Pest Control business definitely requires some training. Especially if you have never done this professionally before. The training will enable you better understand the technicalities behind your chosen business. 
You can get the necessary training by 'interning' at already established Pest Control Companies. YouTube will also provide a ton of information and knowledge mostly in the form of tutorials and How To videos. Doing this, will also increase customer confidence and boost the reputation of your business.
*Have A Business Plan.* 
For every business, having an effective and concise business plan is very important.
*Figure Out Your Market.* 
It is very important that you figure out your market. Especially before starting your Pest Control business. Your potential customers are everyone from low, middle and high income earners and basically anyone who lives in a bedsitter, apartment, home or makes use of office space. 
Even schools and hospitals, farms, medical centers, the possibilities are almost endless when it comes to the Pest Control business.
*Plan Out Your Marketing.* 
The next move after figuring out your target market, should be planning out your marketing. Yes, your Pest Control business just like any other business venture, definitely needs marketing too. Learn how to get the attention of your target market. 
Would discounts work? Or referrals or both? How about posters, sponsored adverts on social media and fliers. Email marketing for example, is one cost-effective way that is also very efficient in building the customer base for your Pest control business. 
If you have a website for your business, you can gather email addresses and contacts of people who visit your site. Fliers, are also another cost-effective way to market. Flyers are one 'page' advertisement pieces that can be created at little or no cost. You can distribute these to people, in and around the area where your Pest Control business will be located. 
Find out what is most effective for you and use that or a combination of all of them.
*Create A Unique Logo.* 
The importance of a very well done Logo can never be over emphasized. Especially with regards to having a positive first impression on your potential clients. Make sure you create a logo that stands out and sets you apart from the competition.
*Be an Authority in The Pest Control Field.* 
Clients and potential clients tend to believe in businesses that are perceived as Authorities or seen as authoritative in their fields. When you are making a pitch to win over a client or clients, always make sure that you exude confidence.
*Be Trained In Sales.* 
You might be thinking I'm running a Pest Control business, why do I need training in Sales. The truth is any business that involves products, services and customers, will benefit greatly from sales training. Ensure that you as well as your staff are well trained in sales. This will also come in handy when your business begins to grow.
*Register The Name Of Your Pest Control Business.* 
You will need to register the name of your Pest Control startup if you plan to run it as a legitimate business. The business name registration would cost you around 1,000 Kenyan Shillings.
*A Business License Or Permit.* 
This is one of the most fundamental licenses that businesses in Kenya are required to have before commencing operations, so you will definitely need one for your Pest Control business. Although the cost of a business license or permit differs from county to county, it usually sits at around 3,000 Kenyan shillings.
*Choose The Most Suitable Business Structure For Your Pest Control Business.* 
Choosing a business structure can determine your personal liability, how much you pay in taxes, as well as your ability to raise financing. This is why it is very important that you choose the business structure that is most suitable from the get go because changing structures later on, could lead to tax consequences. 
Be sure to consult a business accountant and a lawyer too before deciding if your Pest Control business would be a Sole Proprietorship, a Partnership, a Corporation or a Limited Liability Company (LLC).
*A Location.* 
As with almost every other business, a good location is one of the major factors that determine whether or not your Pest Control business will succeed. Especially clients who prefer to meet up in official settings or premises. Find a location that is both ideal and easily accessible.
*Secure A Fire Clearance Certificate.*
This is received after undergoing an inspection which you pay for. This will also include getting advice regarding the guidelines of protection against fire, and the installation of the required equipment like fire extinguishers.
*Make Sure Your Pest Control Business Is Insured.* 
Although nobody likes to incur extra costs, Insurance is one essential part of starting any business.
*Figure Out Your Suppliers, Their Requirements And Set Up A Supply Chain.* 
In the case of your Pest Control business this will be the manufacturers of the chemicals you will be using for pest control and or extermination. These 'suppliers', are an indispensable part of your business. You have to make sure that the ones you eventually work with are reliable. 
Find out the manufacturers and or wholesale distributors that operate or deliver in and around the area where your Pest Control business will be located. Once done, figure out what the terms or requirements are. This could be their minimum order amount for example. 
Try to set up a direct relationship between your Pest Control business and them.
*Get Your Protective Gear.* 
While some Pest Control practitioners opt for casual and everyday clothes during the execution of extermination services, it is always advised that you use industry standard protective gear. This is because while the chemicals used during pest control and extermination are not exactly harmful, continuous direct exposure to said chemicals could be toxic and as a result; dangerous. 
Ensure that you have Gloves that are resistant to chemicals, long pants (i.e trousers), long shirts, A respirator, footwear that is resistant to chemicals, an Apron or Smok, and a pair of Goggles. You might also need a shield. These are known as the Personal Protective Equipment (PPE). You can also have your Pest Control company's logo on your Personal Protective Equipment (PPE), as another form of marketing.
*Get The Necessary Pest Control Equipment.* 
Equipment like Dusters, Fogging Equipment, Foamers, Bait Guns, Aerosol Dispensers, Miscellaneous Equipment, Sprayer Cleaners, Replacement Keys, Termite Baiting Tools, Ultra Violet (UV) Flashlights, Spill Kits, Vacuums, etc. 
Please make sure that you purchase these equipment from dealers who are reputable. While new equipment are usually preferable, you can also opt to buy an already established Pest Control business that is looking to sell. Doing this will save you the extra cost of buying brand new equipment.
*Make Sure Your Pest Control Business Has An Online Presence.* 
This includes creating a Facebook page, as well as Twitter and Instagram accounts for your business. You can also get a website created for your business as well, in order to further attract larger customers who may require your services in 'bulk' or on a contract basis. 
Make sure the website is easy to navigate, make sure your content is also engaging. Ensure that all the relevant information about your company (which includes the contact details for your business and testimonials) is included, as well as the terms & conditions and privacy policy. 
Be sure to hire a professional for this, so as to ensure that the website is very well done and looks presentable. The hired professional, will also make sure that your website is well maintained and updated regularly. Creating a LinkedIn profile for your business will also be a good look and will help you further network with other businesses. Just make sure that you update your LinkedIn.
*Figure Out How To Raise Capital.* 
The Pest Control business like any other business, requires capital investment. After completing your business plan, knowing your market and finding a location, this should be your next line of action. 
Although Personal funds are sometimes the primary source of funding for many new businesses, doing just that may not be enough. Taking on a financial partner is your best bet. If obtaining a business loan from financial institutions proves difficult, the next option should be getting it from friends and family. 
Loan arrangements in this setting are usually much more flexible as they come with much lower interest rates. All you would need to do is convince said friends and family, of the profitability of your business. Please make sure however that you pay back the money and in good time too, so as to maintain confidence which you would need if you would require money from them in the future.
*Get A Vehicle For Transportation.* 
As a Pest Control business especially one which is just starting out, one of your most vital resources will be transportation. Make sure you invest in a Van Trailer or Truck. Specifically those that can lockdown. This will ease your movement to and from locations that require your services. 
Make sure that the vehicle you decide to acquire, is reliable and can effectively transport your equipment and supplies to wherever they are needed. It is also advisable that you have your company name and or logo imprinted on your Van and or Truck. This is also part of advertising the presence of your Pest Control business.
After sorting out your transportation needs, it is important that you also budget for the maintenance of said vehicle(s).
*Get An Employer Identification Number.* 
If you will be looking to set up checking accounts for your business and or hire employees, you will need an Employer Identification Number. To get one, simply get in touch with Kenya Revenue Authority which is Kenya's internal revenue service.
Employ more hands. No one is an island, it will almost be impossible to carry out all the daily activities of a Pest Control business efficiently, on your own. Especially when your customer base, begins to grow.
*Ensure That The Accounting For Your Pest Control Business Is In Order.* 
Make sure you always have a record of your expenses as well as the income your business generates. Doing this, will ensure that you have a full understanding of how your business is performing financially. It will also help you when it's time to file your annual taxes.
*Figure Out Payment Arrangements That Work Best For Your Customers.* 
You need to know the payment methods and arrangements that would work best for your customers and potential customers in other words; if they would prefer to pay via M-Pesa, Airtel Money, Bank or in cash. Knowing this will help you offer more payment options and also be a lot more equipped to serve them better.
*Talk To Others Who Have Done This Before You.* 
No man is an island. While a number of established business owners are more than happy to give advice to new entrepreneurs, it can take a while to find one who will be willing to do so. 
Build your network. Talk to entrepreneurs who have gone into or are still in the Pest Control business. Examine, study and understand their various business models and strategies. You never know, you just might pick up one or two nuggets of wisdom from them.
And that is it! All you need to know about starting your own Pest Control business in Kenya.
Is the Pest Control business, a suitable venture for you to go into part time or maybe full time? That question, is left for you to think on and answer. 
One important thing besides the tips provided here, is to be good at what you do. Continue to think of new ideas and ways to expand and grow your business.
Also while the prospects are very promising and running a Pest Control business might seem easy, please have a realistic approach as well. It still requires a fair amount of dedication and patience.
Content created and supplied by: Trizah11 (via Opera News )