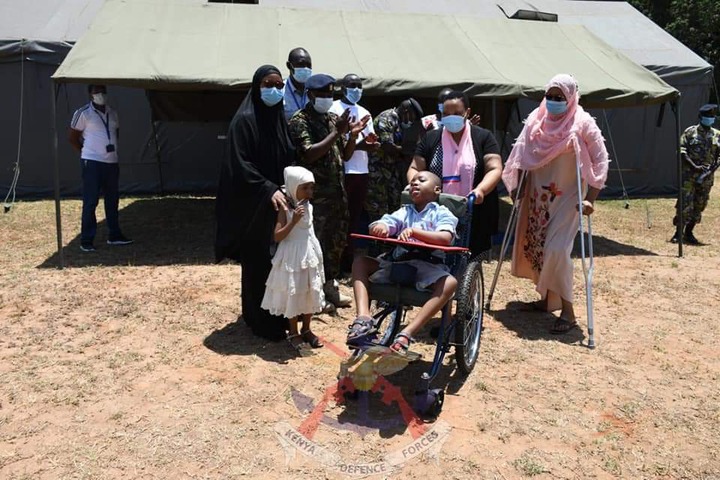 The Military Women Association of Kenya (MWAK) chairperson, Mrs Tabitha Kibochi, presided over the ceremony of handing over special aid devices to children abled differently at the Kenya Defence Forces (KDF) Coast Regional Hospital, Kenya Navy Base, Mtongwe on Friday, 26 March 2021.
During the event, eight military children with special needs received diverse aids corresponding to their needs. The devices handed to the children include; wheel chairs, ankle foot orthosis (AFOs) and spinal braces to assist them in mobility and their day-to-day activities.
Speaking during the event, Mrs Kibochi thanked the Chief of Defence Forces, Gen Robert Kibochi, the KDF Director of Medical Services Maj Gen (Dr) George Ng'ang'a and the KDF Compensation and Welfare department for partnering with the MWAK in facilitating the acquisition of the special aids devices with an aim of enhancing the mobility and improve the quality of life for the children with special needs in the KDF families.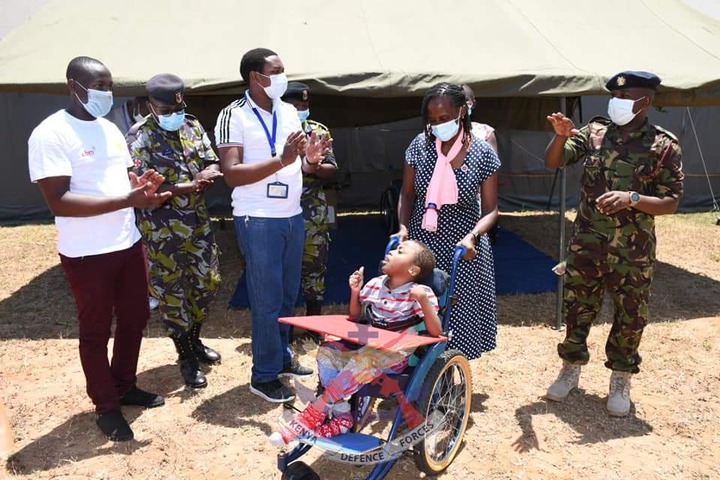 "What pleases me is the joy we have brought to the children and their caregivers. As parents you should not shy off from seeking assistance anytime, come forward for care and consideration," Mrs Kibochi said.
MWAK was established on 12 January 2021 with a vison of providing a platform to exchange ideas, interact and provide benefits to members, as a support system to families of the deceased, persons with disability, retired and serving personnel of the KDF.
The Kenya Navy Mtongwe Base Commander, Brigadier Thomas Ng'anga commended MWAK for their effort to support the children in KDF. He highlighted the steps the KDF Coast Regional Hospital has made in offering medical support to children with special needs in the Navy and the Coast region. 
He pointed out that the newly constructed medical facility at the KDF Coast Regional Hospital will be used as a rehabilitation center offering physiotherapy and occupational therapy services.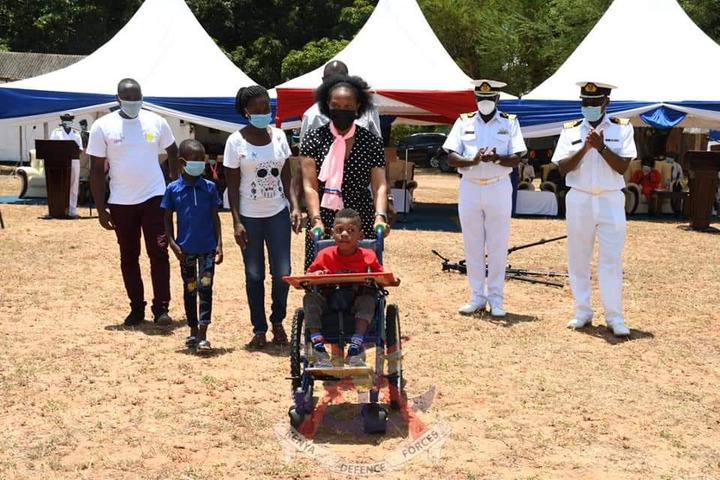 The Kenya Navy Senior Medical Officer Colonel (Dr) Muithya Ngundo, commended the Defense Headquarters and the Navy Headquarters for the several ongoing initiatives to improve the KDF Coast Regional Hospital aimed at improving the services offered there.
"Quality antenatal and prenatal services are key preventive aspects of some of the childhood disabling condition such as cerebral-palsy and as Kenya Navy Medics we shall continue to strive to ultimately play our role in provision of excellent service," he said.
The event was attended by the MWAK leaders and members, senior military officers and KDF families.
Content created and supplied by: TelegraphKenyanews (via Opera News )