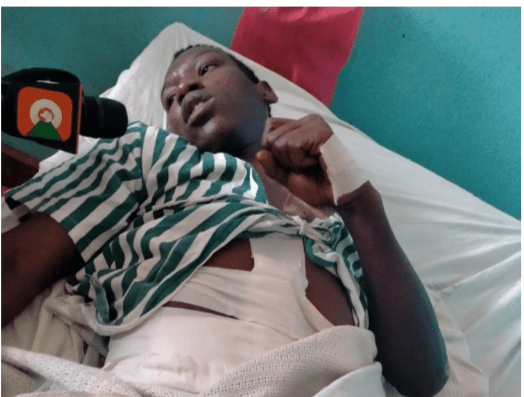 24 years old man from Ititu village from Maragua is lucky to be alive after he survived a gunshot by police officers enforcing a curfew in the region.
Kevin Mungai who s receiving medical care at Maragua hospital met with police on his way home after paying a visit to a family that had lost a son.
He was heading home in the company of his two friends with a motorbike according to Citizen digital. According to Kevin, they landed into several cops who ordered them to stop and alight from the bike.
Afterward one of the police officers reportedly demanded 5000 Ksh. bribe so that they could be made free. After they were unable to give out the bribe one of the officers pulled him and shot him in the berry and left him for the dead.
A doctor at Maragua Hospital called Anthony Maina said that they had already done a surgical produced, but the bullet was too deep in the chest cavity and it requires specialized treatment.
Led by his mother, Mungai' s family wants the police officer prosecuted to bring justice to their son.
Content created and supplied by: FaithMuchiri (via Opera News )