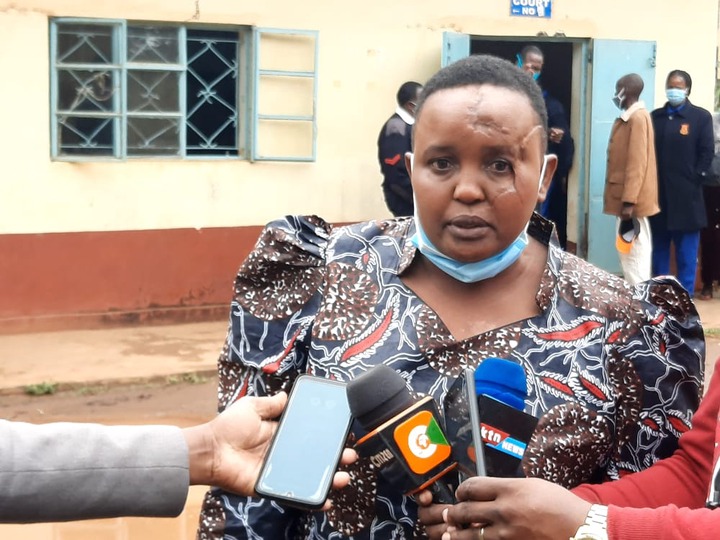 Jackline Mwende addresses journalists outside Machakos court on Tuesday(source. Musyi FM)
Jackline Mwende who was attacked and her hands chopped off by her husband in 2016 can now heave a sigh of relief.
This is after a Machakos court jailed her husband Stephen Ngila to 30 years in prison for attempted murder.
While addressing journalists outside the court, the teary Mwende narrated that her life has not been easy at all since the incident.
"This man is heartless, my parents got sick since the attack and me, I can't do anything on my own, I depend on people to do things for. My life has been full of problems," said Mwende.
She thanked the LG company which facilitated her trip to Korea where she got prosthetic limbs.
However, she said that the limbs didn't last as they stopped functioning after some time.
She said that sometimes the stumps hurt a lot and she has no money to go to the clinic.
"There came a time they stopped functioning and I was left helpless. Even going to the toilet is a problem and as you can see my mother is very old and she has been struggling to help me," said Mwende.
She appealed to well-wishers to help her get back to her feet and get her life back.
Mwende was assaulted by her husband who chopped off her hands using a panga.
Earlier reports indicated that their cause of misunderstanding was that the man accusing Mwende of being barren. Mwende is a mother of one now.
Content created and supplied by: Cpatterson (via Opera News )