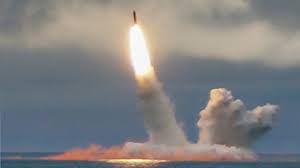 Experts have identified the likely deployment area for the most classified Russian ICBMs of underwater basing.
Russian ICBMs of underwater basing can be deployed by the Russian military in the Arctic region.
Such conclusions were made by experts after some information appeared that these unique systems begun to be tested for their real applicability against the enemy.
The proposed area for the deployment of the unique complex "Skif" was also named. It is located in the northwestern part of Russia, in the Barents Sea.
To date, no country in the world has ICBMs of underwater basing. Only Russia was able to create the complex "Skif". These are the most classified Russian missiles that are laying at the bottom of the oceans in standby mode.
However, the uniqueness of these weapons lies primarily in the fact that today it is impossible to determine the real location of these missiles either from space satellites or by means of sea reconnaissance.
Areas where Russian nuclear weapons are based can be tracked fairly accurately from satellites. However, the complex "Skif" is devoid of this drawback. Even if , for some reason, the location of Russian ICBMs of underwater basing becomes known, it will be impossible to destroy it with a pre-emptive strike. At a depth of several hundred meters, being in protected missile silos, they are simply inaccessible to the enemy.
You may ask a question, why are experts sure that it was in this area that Russia deployed the "Skif" complex?
The answer is very simple and very cear, and it does not require any deep thought or high intelligence.
This area is seismically calm and is under constant control of the Russian military, which makes it impossible to detect the missiles by special ships and submarines.
Moreover, from this region, Russia can strike in almost all directions, including the United States and Europe.
It is impossible to determine the place exactly, but most likely, we are talking about relatively shallow depths, which allows us to assert that the Russian "Skif" is deployed at the bottom of the Barents Sea.
Content created and supplied by: Ledward (via Opera News )